Net-A-Porter's Celebrating Summer With Another Huge Sale — But It's Not Going To Last Long
Net-A-Porter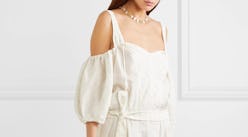 With all the sales floating around this summer, it probably takes a lot to really catch your attention. Sure, all the mall stores are slashing the prices on stuff they need to clear out of their stocks, and your favorite beauty brands are discounting bestselling buys so you can restock your shelves — yet has any shopping event truly thrilled you so far? If not, Net-A-Porter's Summer Solstice Flash Sale will be the thing to do it, but it'll only last a single day so you better get shopping.
When it comes to sales, Net-A-Porter's mainly known for the epic discounts it offers at the end of each season. In anticipation of the next season, the fashion girl-adored online retailer serves up its designer wares at steeply cut prices, and it's typically a free-for-all amongst shoppers to score all the best pieces. But Net-A-Porter's Summer Solstice sale is something different (and extremely exciting).
That's because during this particular sale, the store is offering up a chance to score its latest high summer arrivals for less — but only for 24 hours. Yes, you read that right. All the fresh pieces that just went up for grabs at Net-A-Porter will be on sale for one day only, in celebration of the official start to the summer season. You'll be able to take 20 percent off all the pieces in the Seasonal Edit section, simply by plugging in code JUNE21 at checkout.
And since this sale is only live for a single day, you'll want to attack it with a plan in mind. Stock up on all the trend pieces you'll want to get you through the summer, like a pair of heeled thong sandals from Gianvito Rossi down from $695 to $556 or a flat, multi-colored style by Culta Gaia for $200. Invest in an of-the-moment citrus yellow slip skirt from Vince, $196, to pair with a tie dye tee or simple tank, and grab a whimsical shell adorned crochet tote, $257.60 after the discount, to give beachy charm to every outfit.
Upgrade your stockpile of your summer essentials with chic designer pieces like Loewe + Paula's Ibiza linen-blend gown, a contemporary update on the classic white summer frock on sale for $1,250 with code JUNE21. And snag GRLFRND's cool distressed denim bermuda-length shorts, $142.40, to give your super-short cutoffs a break — they'll look great worn over a sleek one piece like this Hunza G Zora seersucker swimsuit cut to $152.
See anything you like? There's no time to waste, so start scrolling to shop some of the best pieces you can score for less during Net-A-Porter's epic one-day sale.