These New Net-A-Porter Bags Are An Easy Way To Elevate Your Poolside Lounging Look
Net-a-Porter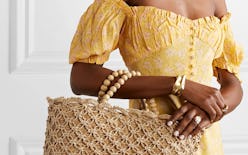 Even if you don't have any firm plans for this summer, you do probably have one goal in mind: find a pool ASAP. (Whether it's in Bali or your best friend's backyard is yet to be determined.) Nevertheless, with pool season comes poolside dressing — and all of the breezy, summery basket bags you've had your eye on. This includes, of course, Kayu's new bags for Net-a-Porter; the Meghan Markle-approved brand released two never-before-seen designs on June 18 guaranteed to turn your poolside loungewear into a certified look.
Both new additions are exclusive to Net-a-Porter, and are part of the store's recently-unveiled NET SUSTAIN initiative — a sustainable fashion platform shoppers can find right on the original site. While chic and incredibly on-trend, Kayu's new designs are also environmentally friendly; each one was handcrafted in the Philippines using locally-sourced seagrass or straw.
"We are thrilled to join Net-a-Porter's celebration of making fashion more sustainable. Sustainability has always been a core component of Kayu, as our bags are made with materials that will naturally decompose — while consciously preserving the heritage crafts of artisan community of Southeast Asia," reads a quote by Kayu Creative Director and Founder, Jamie Lim, in a press email.
And while they were crafted with sustainability in mind, Kayu's new bags are still just as budget friendly as the rest of the brand; you'll be able to score either one for well under $300. The Kayu + NET SUSTAIN Hollie crocheted tote, which is large enough to hold all of your poolside necessities, retails for just $240. (And at nearly 17 inches tall and wide, you'll be able to fit more than one beach book, à la Rory Gilmore.)
Grab the $230 Kayu + NET SUSTAIN Pippa woven seagrass tote if you aren't sure where your vacation festivities may lead you. The boxy bag's twill interior is finished with a drawstring, giving you the ability to securely bundle up while you're out and about. Additionally, two slim pockets are attached to the inner walls of the purse — so you'll know exactly where your wallet and phone are each time you open it up.
Regardless of where you may end up lounging this summer, continue scrolling down. Both new bags from Kayu + NET SUSTAIN are below.