All The New Swimsuit Brands At Net-A-Porter That Deserve A Spot In Your Suitcase This Summer
Net-A-Porter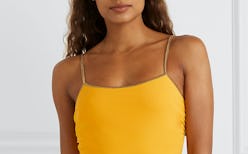 Now that it's officially June, swimwear's probably going to play a larger role in your wardrobe for the next three months or so. And whether your plans are to hit the beach, lay poolside, or jet off to a seaside vacation, you'll need to secure some chic suits ahead of time to avoid the last-minute shopping panic. Lucky for you, there are a slew of new swimsuit brands at Net-A-Porter right now that you can scope out before you start packing for your summer trips.
Known for serving up the latest and greatest to the style-savvy shopper, the fashion-girl favorite retailer has added several new swim designers to its site recently. So, if you're on the hunt for fresh styles to add to your lineup for the season, Net-A-Porter is making it easy for you to start your shopping. In the mix of new brands to be offered, you'll find everything from tropical motifs and textured crochet bikinis to a range of modern, minimal silhouettes in both neutral hues and eye-catching colors.
Continue on to see seven new swim brands to hit the online shopping destination, below.
allSisters
Looking for a sleek suit that you can still be active in? Check out the selection on Net-A-Porter from allSisters. The Barcelona-based brand's two founders were inspired by their love of water sports and work to create sustainable, eco-friendly swimwear by using high-quality recycled materials from Italy.
Agua by Agua Bendita
If you're seeking a suit with tropical vibes, you'll want to peek at the offering from this Colombian brand. Each piece is handmade at home by female artisans and features colorful prints on silhouettes with an elevated retro feel.
Myra
For those partial to a high-cut leg, you may find the modern, minimal designs from Myra to your liking. Net-A-Porter's selection of styles from the brand includes a range of bikinis and one-pieces in neutral hues as well as in a summer-ready light orange.
OYE Swimwear
Is your swimsuit drawer craving a jolt of color? If that's a yes, peruse the suits from OYE Swimwear. Within the brand's range of styles you'll see silhouettes in several vibrant colors such as red, fuchsia, and yellow that incorporate unique detailing like the buttons that cascade down the front of the one-piece bather below.
Rose Carmine
For those shoppers eager to bring a crochet suit into the mix this summer, you don't want to miss Rose Carmine's handwoven triangle bikini. Currently, the style is available on Net-A-Porter in the below colorway as well as in a bold multi-colored stripe.
Rudi Gernreich
Known for creating groundbreaking swimsuit designs in the '60s, the iconic brand has been relaunched to bring both new and archival designs to the next generation of swimwear enthusiasts. Once you click over to Net-A-Porter, you'll even be able to score fresh iterations of Gernreich's famed monokini and thong one-piece.
Tooshie
You can get two-in-one when it comes to this brand, as the one-piece and bikini styles are all reversible. Tooshie's classic silhouettes feature solid colors that are trimmed with shimmering Lurex to give them a hint of sparkle — making these suits a perfect pick for a casual beach weekend or a glam trip to the South of France.