I Just Found The Only Fall Coat I Want To Wear All Season Long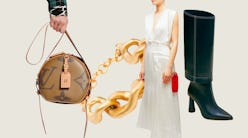 For The Zoe Report's fall fashion issue, TZR editors are sharing the Fall/Winter 2019 pieces they're most excited to welcome into their wardrobes. Here, contributing senior style editor Mecca James-Williams shares her must-have items, including the perfect fall update to summer's slip dress trend.
For me, fall is a time to reset. It's a refreshing opportunity to take things a lot slower after the summer rush. I start buttoning up my schedule and layering pieces into my daily looks as the fall weather gets thicker. I intentionally think things over, review my connection with pieces in my closet, and find ways to repurpose, declutter, and recycle. As I reduce and organize, my summer wardrobe makes its way out of my dresser and into storage, making room for pieces anew.
September is like the start of a new year for me — and the fashion industry, really. Other than it being my birth month, it's also when the best fall collections hit the stores, and new collections are showcased globally. I like to buy 10 to 15 staple pieces that I can rotate among the other items I own to balance and update my style. As I put together my fall wardrobe, my style transitions, growing up with the new season. It feels warm and sophisticated while still maintaining a whimsical element of surprise.
Here are some of those picks for this season.
EDAS Bag
This cult-favorite bag has been reimagined into a mini size, and the bright red is such a beautiful fall splash of color. Bags are my favorite staple, and this one comes from EDAS. I really appreciate a classic style when shopping for bags; I choose pieces that are timeless, yet fun. From the white buckle to its mini shape, this bag is the perfect mix of both.
Marni Dress
I'm obsessed with the idea of only wearing dresses this fall — satin dresses, to be exact. I love a satin dress with a chunky knit, or coat and boot. This Marni dress is exactly that dream dress. It's not simple by any means. The silhouette is perfect for curves, and the detail and design adds new dimension and charm to the "slip dress" trend. From the reconstructed pleats to the plunging neckline, this is definitely a staple I need for fall.
Acne Studios Coat
Right now, I am on the hunt for a coat that is both functional and visually appealing. I typically go for big puffers, but this fall, I want something more minimal. This Acne coat is that piece. The shape adds the perfect amount of edge — it could be styled beautifully with just about anything.
Louis Vuitton Bag
The shape of this bag is super fun and whimsical. I have been obsessing over LV since I can remember, and I really love the shape Nicolas Ghesquière adapted for this monogramed bag.
JW Anderson Choker
I've been having a strong moment with gold jewelry — dainty and chunky, and the range between. This JW Anderson choker is one of my all-time FW19 favorites. This could be paired with jeans and a T-shirt and still pop. I also appreciate the play on the go-to link chain — it's a very nostalgic ode to the '90s and my childhood.
Jacquemus Boots
These boots are the definition of my style. They are super classic, but with a subtle touch of coolness. The mimicked silhouette of a pant and boot combo would resonate so well with my wardrobe. Add in a cool heel and the perfect fall hue, and I'm sold!