4 Major Fall Fashion Trends You Can Start Wearing Right This Second
@chrissyford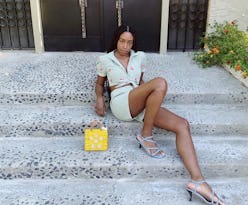 When it comes to predicting the trends that'll be at the center of the fashion world, it's not uncommon to find yourself faced with extreme choices. Jackets that resemble duvet covers, dresses seemingly straight from a Laura Ingalls Wilder novel, and bags that don't fit much more than a breath mint — bottom line, not every runway trend makes sense when it comes time to try it IRL. But, don't despair, there are a number of easy fall 2019 fashion trends to try that are entirely wearable, especially with the right styling advice.
The experts below are a combination of buyers and stylists who offer an informed perspective on which trends from the Fall/Winter 2019 season are worth paying attention to if you're looking to build out your everyday wardrobe. As professionals, they're uniquely positioned to understand which silhouettes and colors are most marketable (specifically shopping for customers at Moda Operandi and MyTheresa, that is). And as stylists, their predictions might even provide a peek at the pieces that soon will be spotted on their high-profile clients. Essentially, these are the insiders that are not only first to recognize when a trend is bubbling under the surface, about to blow up, they're some of the creatives who help drive their popularity.
In the case of fall 2019, the trends they've chosen hint at a return to colors and silhouettes that seem classic yet nuanced, as well as suggest that '90s influences are as in-demand as ever. Across their predictions on shoes, jackets, and hem lengths, the overarching opinion is that wearability is key. Gimmicks are not.
Below, four informed predictions explained.
Oversized Shoulders
"On a whole I feel like an androgynous take on suiting will be very popular this season," says stylist and consultant Amanda Murray. "Think Diane Keaton in Annie Hall and Julia Roberts' style in the '90s, but a bit softer." While Murray specifically references Zendaya's recent ode to Roberts as inspiration, according to the stylist, fashion's fascination with all things '90s continues, specifically by way of big silhouettes and the return of shoulder pads.
"Dramatic oversized shoulders were key on the runways for Fall/Winter '19, worn as a layering statement or even alone," adds Tiffany Hsu, fashion buying director at MyTheresa. While Hsu states that monochrome styles and neutral colors are most exciting for the season ahead, the trend generally resonates because it can also be adopted into wardrobes in small or large doses. "We see our customers purchase suits as an all-in-one look and separate styles to layer and mix, making this trend a great trans-seasonal look that can work all year round."
Back To Black
It's hard to imagine that the color black has ever lost popularity, and yet, Moda Operandi Fashion Director Lisa Aiken says there's reason to revisit fashion's favorite hue with renewed enthusiasm. "While it may be stealth, it most certainly shouldn't be ignored — especially amidst the wash of head-to-toe beige both on the runways and amongst the street style set," she says, referring to one of the year's biggest color trend. For Aiken, fashion week runways were the reminder of how powerful black clothing can be, even if it is considered highly accessible. "At New York Fashion Week, Khaite's black maxi trench layered over a black pantsuit struck a chord for me. The micro trend continued across a multitude of runways in every city. It undeniably works seamlessly in our daily lives."
Square-Toe Shoes
"We saw the square toe make a statement as a key shape across heels and boots," Hsu says of the shoe shape that in her opinion has yet to hit peak popularity. She credits major brands like Jimmy Choo with its rise, but also credits emerging cult labels like Wandler, Neous, and By Far for helping to expand the scope.
As Aiken explains it, old Céline fans will be particularly keen on this style as it's appeared in the storied brand's past seasons. And yet, the polarizing shape is finding new supporters, too. "It seems influencers have been moving this trend forward as seen via the cult square-toe sandals by Daniel Lee for Bottega Veneta," Aiken explains. "The square toe boot will surely modernize any fall wardrobe."
Thankfully easing into this au courant option isn't too complicated: Start with pairing square-toe, strappy sandals with your summer shorts and skirts now, and graduate to an autumnal midi dress and lace-up booties in fall.
Long Shorts
"A trend that will be seen everywhere in the fall is the long shorts trend but in super luxurious fabrics," predicts celebrity stylist Britt Theodora. Considering the approaching season of transitional weather, the stylist for models Bambi Northwood-Blyth and Salem Mitchell says that the elongated Bermuda shorts of summer will continue to bubble up in popularity. "2019 will be a little more buttoned up and sophisticated which I'm super excited about," Theodora says, suggesting the shape will continue to resonate for a range of women into autumn. Arguably this includes anyone who's over a short shorts fit, who appreciates interesting textures but not an overpowering silhouette, or who craves a look with structure but won't commit to a full-length pair of pants. At least, not yet.