MOTHER Just Launched A '70s-Inspired Collection In Honor Of This Astrological Alignment
Courtesy of MOTHER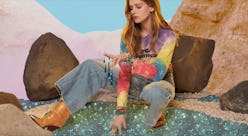 Across generations, many who have sought meaning in the world have looked to the stars. After all, in turbulent times when not much can be counted on, the cyclical patterns of astrology and the straightforward, energy-based principles of metaphysical practices can be a source of comfort. Plus, whether you truly rely on them or not, colorful crystals and mantra-emblazoned pieces make for an inspired, whimsical aesthetic that's a welcome departure from the norm. And if you've been on the hunt for high-vibe, high-style wardrobe additions, Lady Luck is certainly on your side with the arrival of MOTHER's Mystical Collection. Whether you're way into the woo-woo world or just want a major dose of tie-dye, distressed denim, and whimsical embroidery, it's a must-shop.
Out in Los Angeles, people take the mystical world pretty seriously (did you remember to charge your crystal collection during the most recent full moon?). So it's no wonder that born-and-bred Angeleno denim brand MOTHER has deep roots and a strong affinity for all things spiritual and metaphysical — in fact, the entirety of its newest capsule collection, Mystical, is centered on the energy and symbolism of the transcendental world. And worry not, because you don't need to consider yourself a cosmic expert to get in on these good vibes.
The Mystical collection, available on the brand's site beginning Aug. 8, combines otherworldly storytelling with the cheeky attitude that MOTHER is known for, presenting a new range of denim silhouettes, embroidery-covered pieces, and tongue-in-cheek graphic tees. On-trend tie-dye also abounds — because it wouldn't be a groovy, '70s-inspired drop without it. Even the launch date ties into the overall spiritual positioning: August 8, 2019 marks an astrological alignment known as The Lion's Gate Portal, a cosmic moment that calls for evolutionary change. Sounds like the perfect time to upgrade your wardrobe, right?
First, stock up on relaxed denim that'll take you through your weekends with ease. Super-distressed style The Trickster, $345, is ready for Saturday lounge sessions, while high-rise straight leg The Dazzler, $265, is still polished enough to pair with a prim blouse for Sunday brunch. The Super Cruiser, $295, features a cool flare silhouette that'll pair as well with vintage-inspired sneakers as they would some killer snake-embossed boots, and color maximalists will have a hard time denying their attraction to the ankle-length, tie-dyed style, The Hustler, $238. And every pair of jeans comes with a handpicked pouch of crystals, to ensure your vibes stay good.
Then, pick from the brand's bountiful selection of graphic tees and embroidered toppers, like this aura-inspired Don't Trip relaxed t-shirt, $130, and this mantra-covered Good Luck denim jacket, $545. When weather cools, keep the astro aesthetic going with MOTHER's tie-dyed puffer, $375, and the Let's Get Metaphysical pullover sweatshirt, $185.
Keep scrolling to shop the spiritually-informed styles for yourself, and head to MOTHER's site for even more mystical must-haves (you could always use a bundle of sage and some quartz to ward off bad vibes).