Milk Makeup's New Mask Features The Growing Skincare Trend You're About To See Everywhere
Courtesy of Milk Makeup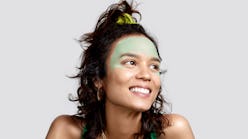 At this point in the month, you're likely setting your sights on the coming year, so you can get a head start on all the up-and-coming trends that are sure to be huge. After all, a new turn around the sun means a fresh perspective on everything from fashion to home decor, and beauty too. And as it turns out, one of beauty's biggest trends just so happens to be a main ingredient in the newly launched Milk Makeup matcha mask — and you may be surprised by what it is.
Vegan beauty brand Milk Makeup announced three new skin care products on Dec. 18, and included among them is a mask that arrives just in time for you to get a jump start on a beauty trend that's set to be big in 2019. The brand new Matcha Detoxifying Face Mask, $24 on Milk Makeup's site, uses trendy matcha green tea as its hero ingredient to purify pores, but that's not even the addition that's most eye-catching. In fact, it's old-school beauty secret witch hazel that's particularly interesting.
Wondering why you should zero in on this not-exactly-new ingredient? As it turns out, the solution your grandmother probably relied on to keep her skin balanced is seeing a surge in popularity on Pinterest, with a 305 percent increase in searches over the past few months. Unsurprisingly, there's a reason it has been around forever: it works.
So if you've never tried by the classic complexion clearer, scoop up Milk's new mask to see how effective it really is. Paired with the detoxifying power of matcha and cactus extract's soothing and hydrating properties, you can expect smoother, more refined skin after a five-minute masking session. Sounds pretty ideal for starting the new year with your best face forward, right?
And while you're prepping the rest of your beauty cabinet for 2019, pick up Milk Makeup's other just dropped products, the Watermelon Brightening Face Mask, $24, and the Cooling Water Eye Patches, $22. The mask is packed with natural hydrators and brighteners, like vitamins C and E, that instantly give skin a dewy glow, while the eye patches use caffeine and complexion-calming lavender and aloe to tackle puffiness in ten minutes flat.
The time is now to get your beauty resolutions in order ahead of the new year — make it a priority to give you skin a little extra TLC with naturally powerful products that promise happy, healthy skin. Shop Milk Makeup's brand new beauty goods below for a bright, clear start to 2019.