Miley Cyrus Just Completely Switched Up Her Look With A Bold Haircut
Dia Dipasupil/Getty Images Entertainment/Getty Images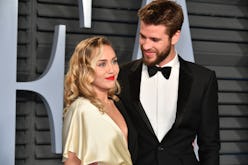 Warm weather has long been synonymous with blonde hair. There's just something about sun-bleached roots and salt-infused waves that embodies the carefree vibe of summertime. Miley Cyrus' new bangs and blonde highlights is the beachy look you've always dreamed of getting.
As you may remember from her younger years, the singer is a natural brunette who seems to stick with a dirty blonde hue nowadays. A subtle dark-to-light ombré has worked its way into her look of late, too.
Needless to say, Cyrus has tried out just about every style over the years — even cutting it into that memorable super-short pixie at one point — but even with the frequency of her hair changes, every time she steps out of the salon it's breaking news.
This time, especially, because Cyrus' new hairstyle is one of her most dramatic makeovers yet. On Thurs., the singer debuted a look you've never seen before — well, maybe you have once. Many are comparing her new bright-blonde shade and those blunt bangs to her old-school Hannah Montana days.
Even Cyrus herself acknowledged the resemblance, writing "Hannah is punk now" on one of her Instagram Stories. She documented the whole process on social media, starting with a head of foils and ending with Cyrus showing off the final product while singing Nobody's Perfect.
The latest is a pretty big change from the honey-blonde hue she's been sporting recently, but you can't say it's unexpected. Cyrus is known for switching up her look constantly. It's pretty much her M.O.
Her new bangs hang down over her forehead, almost long enough to brush her eyelashes, and her bright-blonde highlights are perfect for those sunny days to come. It's perhaps the safest way to do a bold change, so don't be afraid to ask your stylist to do the same.
Ahead, products to help you recreate the singer's new look.
Shop The Products