Those Miista Croc-Effect Boots All Over Your Instagram Are Super On Sale Right Now
Miista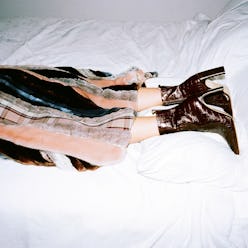 When Miista posted a snapshot of a single red, croc-effect leather boot to Instagram on Nov. 27, over 3,000 people liked the photo. When Miista posted a similar picture Dec. 18 — a photo of its black croc boots styled with light denim and a dark coat — 6,000 people liked it, doubling numbers not even a month later. The London fashion brand is undisputedly growing, and along with it, its fans. That means it's time to grab any croc-effect boots you've been eyeing during Miista's shoe sale before the low-stock styles vanish — because they're going to be gone soon.
Three different pairs of Miista's croc-effect leather boots and many, many other styles are up to 50 percent off during its Unboxing Day Sale, which ends on Jan. 7. Choose your dream boot from three croc-embossed shapes: the retro Edith marked down to $255.50 from $365 (in mimosa and red), the polished $385 red Cybil on sale at $269.50, or the subtle, regularly $420 brown Marcelle for $294. If you have to pick, while the Marcelle may be the most versatile, the red Edith boot is a one-of-a-kind shoe.
This isn't to say Miista's non-boot styles should be left from your shopping cart. Take a page from stylist Oriana Kubinska and professor-turned-fashion icon Lyn Slater, and wear glossy Miista heels as you stroll the new year. Grab the exact shoe in Slater's pic (the Rosalie Black Glossed Leather Flats), marked down to $159 from $265. Stay cozy thanks to the elasticized rim, a detail that makes the shoe comfortably stretchy when on while mimicking ballet styles while off.
Or, snag the buckled Mireille Black Glossed Leather Mid-Heels if you need a black heel with that extra something. Originally $295 and on sale for $177, Miista notes in the product description that the heel should be worn with hemlines too short to cover it up — and no one could disagree that the Mireille shouldn't be shown off. Wear it with cropped jeans and silk skirts to play with the shoe's patent leather texture.
Really, there is no wrong option when it comes to a Miista shoe. Continue scrolling down to shop 12 boots, heels, and shoes from Miista's Unboxing Day sale before it ends.