These Are The New Snakeskin Boots – & They're Selling Out Fast
Edward Berthelot / Getty Images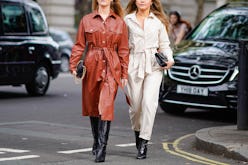 For the past few months, it was nearly impossible to scroll through Instagram — or walk down any street in New York City, really — without seeing someone wearing a pair of snakeskin boots. They dominated the first moment fall hit and quickly became the shoe of choice for the Fashion Week crowd, but quickly felt like a trend everyone had tried. The next iteration of the style, however, isn't just cooler, but also way more luxe: Crocodile leather-effect boots are trending this winter, and they're showing zero signs of slowing down.
"This season high-quality, croc-stamped leather makes an appearance in rich hues borrowed from late 19th century paintings and the unconventional elan of Montmartre," says Laura Villasenin, founder and designer of Miista, the accessories brand that's quickly become a favorite of influencers like Jiawa Liu of @beigerenegade and Dylana Suarez. And the trend, which was a natural progression of all the other animal print pieces that shot up in popularity (looking at you, Realisation Par midi skirt), should come as no surprise.
"It comes from the desire to go back to luxury materials with a longer shelve life," Villasenin says. "Rich texture balances out clean, tailored, and therefore timeless shapes. Croc combines a desire to stand out and embrace the most badass kind of animal."
Runway brands like Fendi, Tibi, and Aquazzura have all debuted pairs in the recent months, and they're selling out quickly — sometimes despite a four-figure price tag.
But just like the snakeskin boots that came before them, most crocodile-effect leather boots aren't made from actual croc: "[Miista uses] a mix of heat and pressure to create the raised texture, using high-quality, 100 percent Italian cow leather, which is hand-finished by leather crafts(wo)men," Villasenin says. And while most croc-effect styles are made with cow of calf leather, there are quick a few vegan-friendly pairs on the market too: Look for materials like polyurethane and rubber, both of which hold their shape.
Not sure how to wear them? Style your favorite croc-effect shoe like you would any other pair of boots that you'd want to show off: with equally rich warm-weather textures like wool, cashmere, or faux-fur, Villasenin says.
Ahead, shop 15 must-have pairs before they're gone.