Mejuri's New Collection Is So Unexpected — & It's Going To Sell Out Fast
Courtesy of Mejuri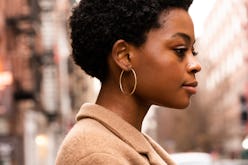 While the whole "new year, new you" mantra can come off a little tired (seriously, it's not like anyone's changing overnight), there is something to be said for embracing a fresh perspective as you head into a new trip around the sun — especially when it comes to fashion. And if you're looking to shake things up sartorially, without completely dismantling your overall aesthetic, accessories are a great place to start. As luck would have it, one decidedly dainty jewelry brand is also in the mood to turn a new leaf in 2019 by kicking off the year with the Mejuri Oversized collection.
If you're already a fan of accessible-luxury jewelry brand Mejuri, you know the line is beloved for being crafted from high-quality materials and sold at prices that won't put you off course of your savings plan. Mejuri's also known for its designs, which are classic, dainty, and ideal for daily wear — think simple gold hoops, stackable rings, sweet bracelets, and easy-to-layer necklaces. So when the brand announced that a brand new limited-edition line would be dropping on Jan. 7, you may be surprised to learn that it's dubbed the "Oversized" collection.
But with the ever-popular idea of treating the new year as an opportunity for a new interpretation of your brand, Mejuri's forthcoming launch actually makes a lot of sense. "We wanted to kick off the year with larger pieces, still very easy to wear, but the kind of jewelry that can really stand out on its own," Mejuri's creative director Justine Lançon told The Zoe Report.
It doesn't hurt, also, that the brand has experimented with bolder pieces in previous collections, which have always been met with success. "Our community has loved them, which is why we don't shy away from going bold," Lançon said. "This time we wanted to go even bolder."
Plus, just because the Oversized collection will feature items that are a little more adventurous, it doesn't mean the pieces, made from vermeil and 14k solid gold, will overwhelm your more demure daily favorites. In fact, Mejuri encourages you to wear it all together. "We love the idea of mixing or stacking different types of jewelry, whether that's in style or boldness, as long as we're in keeping with everyday wearability and our pure, sleek, aesthetic," said Lançon. Sounds like "more is more" is another mantra to adopt for 2019.
Mejuri recognizes that the collection is a particularly unique concept for the bare-essentials brand — and because of that, the handcrafted collection will only be available for a limited time. As Lançon told The Zoe Report, "It's a unique and surprising collection, so it makes sense for us to make it a limited edition — we're not launching a new category, we're launching a fun story. And we're also setting the tone for this year, that it's going to be big, bold and fun!"
With this in mind, you'll do well to shop the new launch as soon as it drops on Jan. 7, because it's bound to sell fast. Keep an eye on Mejuri's Instagram for details on the exact drop time, and join the brand in embracing a bold, stylish year ahead.