8 Pretty, Affordable Indie Jewelry Brands You Should Have On Your Radar
@helenacuesta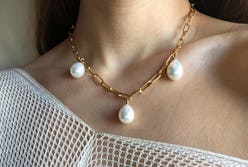 Diving headfirst into a new year is supremely less daunting with a refreshed wardrobe in the mix. Crisp, tailored separates and sleek accessories all contribute to recharging your day-to-day routine both in and out of the office. Assuming you're on the same style page and have already invested in these pieces, it's time to consider a supplementary accessory to take things to the next level — a stellar piece of jewelry from an affordable indie designer, perhaps? While you may have a few select fine pieces already, lower priced pieces (that still look luxe) are a great way to add to your collection.
Thankfully, even if the room left in your post-holiday budget for personal shopping is sparse, Instagram has proven that a game-changing piece of jewelry at a low price-point is still in the realm of possibility. Indie designers are bubbling up on influencers' accounts with aesthetics across the flair spectrum. Statement earrings resembling plump red cherries, sleek gold necklaces adorned with shiny pearls, and even of-the-moment signet rings to stack with your other favorites — all of the budget-friendly options from these indie jewelry designers are wonderfully varied. Below, eight brands that prove a top-notch outfit doesn't require an expensive jewelry purchase but rather an eye for something cool and a pinch of imagination.
Levens
Founded in 2016, this Barcelona-based jewelry brand was inspired by an adventure around the Cote d'Azure. Designer Mar del Hoyo creates everything by hand and is well-known for her brightly-hued ceramic earrings.
Susan Alexandra
Did you know the cheerful NYC-based label that's beloved by fashion girls for its beaded bags also does jewelry? Handmade and reliably interesting, every piece is like a work of art simply waiting to brighten up your look.
Somme Studio
If you have a penchant for architecture and design, then this Aussie jewelry label will be up your alley. Every piece feels delicate and artfully imperfect. The perfect addition to a minimalist's wardrobe.
Leigh Miller
Hailing from Los Angeles, Leigh Miller's collection of jewelry offers a fine and contemporary assortment of metal and glass pieces that simultaneously feel polished and playful.
Mediterraneo
Evoking the spirit of Mediterranean summers in Italy, Mediterraneo is ran by a husband-wife-duo based in New York City. The two met while in Florence and lived in Italy for several years before returning to Manhattan. The materials are sourced from the Mediterranean, including the glass-blown pieces and seashells.
Soko
Soko teams up with artisan entrepreneurs in Africa to produce a jewelry collection that's ethical, sustainable, and affordable. Resources such as recycled brass and reclaimed cow horn and bone are employed throughout the process all while fitting into a modern, minimalist aesthetic.
SVNR
SVNR earrings are made from found, re-used, up-cycled and natural materials, which translates to a lively assortment of jewelry that could give even the simplest outfit instant appeal.
Them Bones
Sisters Lucia and Helena Cuesta created the Spain-based label in 2014 and serve up an experimental mix of jewelry that's versatile and timely. You'll find everything from the perfect chainlink necklace to a cuff shaped like a seahorse.