Mejuri's First Foray Into Home Decor Is Just As Insta-Worthy As You'd Expect
Courtesy of Mejuri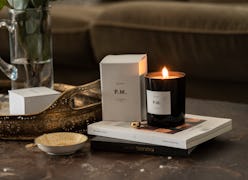 In life, it's often the little things that can make the biggest impact. Elevated alternatives to daily necessities have a way of making the norm feel not just fine, but fantastic. And when a brand figures out the key to creating simple yet sophisticated pieces that work for everyday, it's no surprise that it becomes a fast favorite amongst the fashion set. Fine jewelry brand Mejuri is one such success story, and you won't be too surprised to know that it's been crafting an entirely new category to expand on its luxe offerings. Mejuri candles are now on the market, and you'll want to move fast to get one.
Fashion girl favorite jewelry brand Mejuri officially launched its newest category on Jan. 16, welcoming a duo of candles into its world of little luxuries. The A.M. and P.M. candles, named to coordinate with your morning and nightly routines, are now available on Mejuri's site. And while the fragrant items may feel like a far cry from the brand's collection of fine jewelry, candles actually make a pretty good addition to Mejuri's curated shop.
"It's a very organic evolution for us as a brand. We started to introduce complementary products around the idea of making luxury a habit, that make sense with our core product category, fine jewelry," Mejuri CEO Noura Sakkijha tells The Zoe Report.
Indeed, the brand previously introduced a luxe leather travel case to house essential jewelry on trips near or far — a practical yet pretty accessory to elevate your average travel day. Making candles was a clear next step. "As we've built the brand, and in particular our showrooms, the question of scent came up again and again," Sakkijha says. "We are all such big fans of candles; there is always one in the office, so we knew our own just had to exist!"
So, Mejuri worked with candle developer Brennan Moore, smelled a lot of scents, and discovered which fragrances were right. "We started from there, refining around one main direction. For example, both candles have jasmine in common, but the way it's combined with top and base notes creates a completely different smell," Mejuri Creative Director Justine Lancon explains.
Take in the scent of A.M.'s rose, lilac, and jasmine notes, and you'll also catch hints of ginger, white tea, and amber musk. The refreshing scent — reminiscent of a relaxing morning at a beach house — should leave you feeling ready to take on your day. Return home to light Mejuri's P.M. candle and cozy up with floral scents of tuberose, lily, and violet, framed by jasmine and moss at the top, and amber musk and fir at the base. The fragrance is your most warm and fuzzy feeling, in candle-form. "In the end, we wanted the scents to represent specific moments we had in mind," Lancon says.
Mejuri's candles, much like its jewelry, are handcrafted with high-end materials (in the candles' case, fine essential oils) — but priced accessibly for retail without the typical markup treatment. Oh, and just like the brand's recently-launched Oversized collection, these $40 candles are limited edition items, so you'll want to get yours while you still can.
Just how quick will they go? "We never know!" Sakkijha says. Sounds like you should shop Mejuri's unexpected new addition below, before your chances are blown.