Boy Smells' New Pink Candles Are The Perfect Excuse To Treat Yourself This Valentine's Day
Boy Smells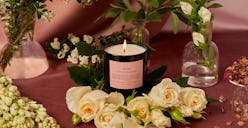 In case you haven't noticed, Valentine's Day is only one month away. While you're probably just getting settled into January along with the new year, in a mere matter of weeks the special day for love will be here, which often involves romantic evenings filled with candies, flowers, and of course, lingerie. Regardless of who you're planning to spend the day with, anyone can indulge in some extra me-time, and Boy Smells' Kush candle is now available in a pretty pink hue, making it the perfect item to gift yourself — because there's nothing quite like some well-earned self-love.
Just in time for you to start shopping for the upcoming festivities (whether it's for yourself or for someone else), the popular fragrance and underwear line has launched one of its most popular scents, Kush, along with two other scents, LES and Petal, as part of its most recent limited-edition drop. Each of the candles, which cost $34, come in a matte pink glass tumbler with a reflective pink label. You'll want to act fast on these though, as these candles are already beginning to sell out.
Boy Smells' Kush candle, while it doesn't contain actual cannabis, has notes of the hemp plant along with suede, white musk, tulip, and amber. Together, these notes create a warm and inviting scent perfect for anyone's home. LES, on the other hand, has fruitier appeal to its scent without being overpowering, including notes of black currant, peach blossom, jasmine rice, cardamom, and white cedar. Petal, which has already sold out on the website, features the fresh smell of tree flowers, rose, sage, and patchouli, bringing an earthy ambiance to your home for you and your guests to enjoy.
As a company who has worked to elevate your more intimate side, Boy Smells has created products, its underwear included, to help you embrace who you are at your core. These candles will do exactly that. Whether you plan on taking a long and calming bubble bath in complete relaxation, or you want to set the tone for a romantic evening with your significant other for the night, having these candles by your side will complement the evening simply by changing the atmosphere.
Ready to create a world around these scents? Scroll down to shop them all below.