Why Mejuri's New Pearl Collection Deserves A Spot In Your Jewelry Box
Courtesy of Merjuri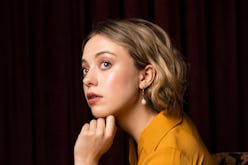 Pearls: A jewelry trend once associated with the likes of Jacqueline Kennedy Onassis and its ability to dress up any ensemble, have always been a staple of classic femininity. Though the idea of donning a simple string of pearls may feel old-fashioned or even outdated, Mejuri's organic pearl collection has given the trend a new look for 2019, proving once again that pearls are, to put it simply, timeless.
It's hard to avoid pearls these days given the fact that they're everywhere you look. Whether they come in the classic form of adornments such as hair pins and minimalist jewelry, or as an unexpected embellishment to a statement-making beauty look, the odds of scrolling through your Instagram feed without seeing some version of the trend are slim. Of course, just because pearls have literally taken over doesn't mean they go unwanted, and if you've been meaning to add the trend to your own collection (or if you've already done so), Mejuri's pieces will be the perfect addition.
Made with organic freshwater pearls and 18k gold vermeil, the minimalist jewelry brand's latest collection includes three different styles of earrings as well as one necklace, which gives you the opportunity to create a complete set to your liking. The Mejuri team has hand selected every pearl in the collection, leaving you with a completely unique, one-of-a-kind piece of to wear for every occasion. The best part of this collection? Each of these beautiful pieces is only $75. With that in mind, there's only a limited amount of items for each style, and some have already begun to sell out — but don't worry, the brand will be restocking them next month.
Be sure to add this classic Organic Pearl Necklace into your jewelry box, which you can wear on its own or layered with your other minimalist necklaces. Pair it with any of the collection's earring sets, like these Organic Pearl Earrings, which feature drop chains with the freshwater pearls. If that simply isn't enough, you can't go wrong with either of the hoop earrings, which vary in size.
Without a doubt, Mejuri's organic pearl collection is the easiest way to pull off the pearl trend this season as well as more to come. Scroll down to see the full collection and shop your favorite pieces now. You definitely won't regret making a space in your collection for these.