These New Bags At Net-A-Porter Are Proof The Croc-Effect Trend Is Only Getting Better
Net-A-Porter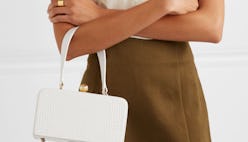 When you're on the hunt for a handbag to add to your collection that is just as trendy as it is timeless, croc-effect leather purses check both boxes. And though the the stylish material exploded onto the market last fall, it's still gaining popularity with designers and fashion girls — and thankfully, that means it's continuing to take on new forms. Case in point: Mehry Mu's exclusive bags at Net-A-Porter, the latest versions of the chic trend.
The momentum of the croc-effect leather trend could be thanks to cult-favorite brands including By Far and STAUD, who both released croc-effect bags bags in recent collections (which you've probably spotted on your favorite influencer's Instagram or the arms of celebrities). So if you've been a fan of the trendy material, Mehry Mu's bags will be the perfect addition to your lineup.
And considering their versatility, incorporating these pieces into your wardrobe will be a breeze. The luxe purses will pair seamlessly with any look you create, whether it's a night-out ensemble or a simple blouse-and-denim outfit.
If you're drawn to vintage-inspired pieces, the $675 Fey In The '50s Croc-Effect Leather Tote, which comes two colorways — dark brown and white — will be your go-to. And it features not one, but two trends thanks to its chic top handle, which made its way back into the fashion world this spring and is continuing to reemerge in pieces from designers like Valet Studio and Simon Miller.
The second bag in the exclusive collection is the Fey Croc-Effect Leather Tote, $575, which is available in both a dark green hue and chocolate colorway. The bag is versatile enough that you can wear it as a crossbody, or remove the strap and carry it as tote. Plus, this luxe gem came at the perfect time: The box bag silhouette is another emerging handbag trend right now that designers like Little Liffner and RIXO are incorporating into their pieces, so you can rest assured that it'll be a photo-worthy addition to your wardrobe.
Mehry Mu was founded by Güneş Mutlu, who made her very first piece from a swatch of ikat fabric that she discovered at Istanbul's Grand Bazaar. The designer took this inspiration to incorporate bold, beautiful colors and exquisite materials like croc-effect leather, velvet, and rattan into its current line. Though the label isn't exactly new, with the arrivals of its two unique croc-effect leather handbags exclusively on Net-A-Porter, you can be sure the fashion crowd is about to start snatching these up — and quickly. Ahead, find the two styles exclusive to Net-A-Porter you should snag before fall arrives.
Shop Mehry Mu Bags