This Cult-Favorite Dress Brand's Latest Bag Is Here & It's About To Be Your New Go-To Evening Purse
RIXO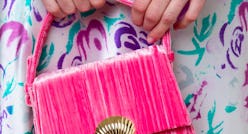 Punchy florals, polka dots, and animal prints are just a few of the hand-painted patterns that have given RIXO a permanent spot in the hearts of fashion editors and influencers alike. The brand is making waves in the fashion scene, particularly for its bold styles and timeless silhouettes, but RIXO's newest Jemima bag is proof that the label's accessories are on track to be just as buzz-worthy — and on the arms of every fashion enthusiast in no time.
You've probably heard of the London-based label by now — most likely from scrolling past one of its eye-catching printed maxi dresses on your Instagram feed. RIXO got its start in 2015 from the living room of two friends, Henrietta Rix and Orlagh McCloskey, and draws inspiration from vintage designs (but with a modern twist), which you can instantly spot by glancing at the brand's chic handbags.
The newest addition to the handbag line — and to RIXO's existing collection of Jemima purses — is the Jemima Plissé-Velvet Shoulder Bag for $455. Featuring a vibrant bubblegum pink velvet finish, this boxy silhouette also includes an on-trend shiny gold-tone seashell like the other iterations of the piece. But, unlike its daytime-appropriate counterparts, the new addition to the lineup feels decidedly more evening thanks to its luxe, shiny texture and color.
If you're searching for a more everyday option, though, look to the satin red polka dot colorway for a piece you can pair with your jeans and t-shirts on more casual days. The brand also offers the style in a red glazed version, but unfortunately that option is currently sold out on the brand's site (though fingers crossed for a restock, because it's equally as chic).
Though the brand has been around for years, its handbags recently launched in February 2019 and styles include everything from wooden beads and delicate feathers to retro floral print — all of which will surely spice up your wardrobe. And, if you're looking to up your accessories game even further, the label expanded to more than just bags in its launch this year. Included in the accessories selection you'll find statement jewelry, funky printed neck scarves, and adorable scrunchies.
Make room in your handbag lineup for this new gem and keep scrolling to shop RIXO's newest purse before it's gone.