These Vintage-Inspired Bags Became A Celebrity Favorite Overnight
Jacopo Raule/Getty Images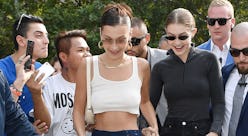 If you've noticed a common thread in celebrity street style in recent weeks, it's likely By Far bags. After the brand's debut collection of '90s-inspired shoes took off in 2016, the line has since expanded into the handbag arena. As evident in the closets of Jessica Alba, Bella Hadid, and Kendall Jenner, the celebrity set is obsessed — and with good reason.
Since first hitting the market in April, celebrities have flocked to By Far's perfectly retro bags. There's something for everyone in these quirky bags: They pair perfectly with a laid-back, polished look (think: dresses and suit separates), but they also compliment any number of '90s-inspired pieces.
The Bulgarian brand was founded two years ago by twins Valentina Bezuhanova and Sabina Gyosheva, along with their best friend, Denitsa Bumbarova. According to their website, the label aims to "anticipate that '90s coolness" with their cult-favorite square-toe sandals and their relatively new assortment of top handle bags.
It should come as no surprise that Bella Hadid — who often infuses her street style with '90s flair — regularly wears By Far bags. On Oct. 9, Hadid was photographed celebrating her birthday in New York City while wearing a patent leather By Far shoulder bag that she paired with a neutral, lace-up halter top and jeans.
On Oct. 6, Kendall Jenner showed up to the Ninth-Annual Veuve Clicquot Polo Classic in Los Angeles wearing a cream, crocodile-embossed version of the classic leather shoulder bag. The on-trend yet delicate piece perfectly complimented her feminine, floral mini dress by Philosophy di Lorenzo Serafini.
Milan Fashion Week also proved a popular time for By Far bags. Gigi Hadid joined her sister in the trend, wearing a mini, structured tote with a quarter-zip top and black jeans, while Bella opted for white. That same day, Hadid swapped her jeans for a pair of sweatpants, proving the trend carries seamlessly into athleisure, too.
Considering their versatility, working a By Far handbag into your closet this season is a smart move — these classic (yet current) pieces go with almost any look you can dream up. Pull a Gigi Hadid and dress up your loungewear with a boxy mini tote, or make like Kendall Jenner and add a shoulder bag to your going out ensemble.
Ahead, shop the By Far pieces celebrities are loving right now, along with The Zoe Report's favorite picks.
Shop The Look