Meghan Markle Just Got A Subtle Haircut With Face-Framing Layers
Kirsty Wigglesworth/Pool/Getty Images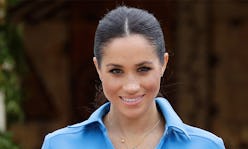 While you were swooning over the navy-blue peplum skirt suit Meghan Markle wore over the weekend, you might have overlooked a key accessory in the look. Under that sleek fascinator, it looks like the Duchess' hair got the subtlest snip. It's amazing what a few face-framing layers can do — and Meghan Markle's new haircut is proof.
Read more: Short Layered Haircuts Every Cool Girl Wants For Winter 2021
The royal family honored the centenary of the Armistice on Nov. 11 by attending a service at Westminster Abbey in London. Markle sported a Remembrance Day poppy on her wide-neck peplum as she stood alongside Prince Harry, Prince William, Kate Middleton, and, of course, the Queen. The Duchess was dressed in her usual — a skirt suit in one of her favorite hues — but something was slightly different about her look. The mom-to-be debuted a new hairdo, PopSugar reports, featuring chin-grazing layers so discreet you could have missed them.
The past year has proven that the newest member of the royal family has impeccable style. Her latest outfits have been so popular they've sold out within minutes, and her never-out-of-place hair is essential to her look. Since she's been thrusted into the spotlight, the Duchess hasn't changed her most famed accessory too drastically. It's typically worn in long and loose curls or pulled back in her signature low bun, but Markle's most recent look, however, shows that she's given it a bit of a snip.
After the couple's jam-packed 16-day tour of Australia, New Zealand, and surrounding islands, Markle was apparently due for a change. The cut is subtle — just a couple inches taken off the ends and a few new face-framing layers about the length of her chin — yet it was enough to give the Duchess a fresh new look. Other than Markle's new piecey layers, her go-to down-do looked pretty much the same: glossy, loose curls parted slightly to the side (worn over one shoulder and pulled behind an ear on the other) topped with an elegant fascinator. The layers simply gave her signature style more depth.
She's not the only royal who's taken a seat at the hair salon lately, either. Only about a month before, Kate Middleton debuted a new haircut, too. Neither of the Duchesses like to switch up their looks too much, though (perhaps it's written into the royal protocol not to), so both opted for the subtlest trims. A simple cut like Markle's is proof that you don't have to go as drastic as Emma Stone's latest blunt bob or Emilia Clarke's pixie cut to try something new this winter.
Markle's new face-framing layers are for anyone craving a change but not willing commit to an extreme chop or dye job. In fact, they're the best way to enhance bounce and volume while adding shape to your hair. The Duchess pulled her short layers behind her ears in a sleek updo just hours after debuting the cut, proving that she can still style it in all her favorite ways just the same, and so could you.