Meghan Markle's Glow Isn't Just From Her Pregnancy
Dan Kitwood/Getty Images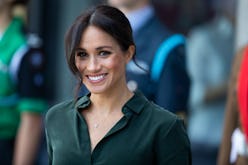 Turns out that all of the speculation was justified: Meghan Markle and Prince Harry, the Duke and Duchess of Sussex, are expecting their first child together next spring. And really, the signs were right there all along — she changed her hairstyle (perhaps to distract the world from her growing baby bump) and she's wearing lots of overcoats. The most telltale sign, however, has to be that glow... or the Markle Sparkle, if you will. Markle's glow isn't just from her pregnancy — even though pregnancy always enhances a natural flush because of the increase in hormones. It can also be credited to one of her favorite makeup products: NARS Orgasm Blush.
The peachy pressed powder blush with gold flecks is a cult classic that's so popular, it even got a shoutout in a Drake song. It's a shade that truly looks good on everyone, in real life and on camera. Back in her Suits days, Markle told Allure that she uses it "on and off camera because it gives you a nice glow from within." The love fest continued over at Beauty Banter, where she described the product as a "perfect rosy flush tone that brightens the face."
While Orgasm is one of those special products that can be used in many ways because of its immaculate pigment, the Duchess isn't immune to a good highlighter, either.
Daniel Martin, her makeup artist, actually use Aquaphor (yes, the drugstore healing ointment) in place of glitzy palettes and products. "Aquaphor will give you that same texture, especially in a photo [when applied] on the high points of the face," he told E! News.
And for the record, it's perfectly safe to use on the face — in moderation. "If it's used during very humid or hot seasons, it may not allow the sweat glands to drain sweat properly and could increase chances of a heat rash. But a small amount on your face as a highlighter? That should be absolutely fine for most skin types," Dr. Rachel Nazarian of Schweiger Dermatology Group tells TZR.
Oh, and bonus: Markle can also use the ointment for her post-pregnancy stretch marks or on her newborn baby's skin, if she wants to.
Markle also credited her lit-from-within glow to the Laura Mercier Illuminating Primer, telling Beauty Banter that she "[doesn't] wear foundation unless I'm filming, so this is what I put on everyday after moisturizer to give my skin a dewy glow." And she also adds "the smallest touch of shimmer to the inner corner of the eye after they're lined," the royal and actor continued.
"I use Chanel Cassis Eyeliner on my upper lash line and water line, and the touch of shimmer powder adds a brightness and sparkle. Even if I have no makeup on, I am likely to apply concealer and a bit of shimmer in the corners of my eye." But her biggest secret that everyone can get in on? Good ol' H2O.
"Drink lots of water, as we all know," she said. Or, you know... wed a handsome royal, be fruitful, and multiply... whatever's easier.