Meghan Markle Just Announced Her Birth Plan — & It's So Different Than Kate Middleton's
Pool/Getty Images Entertainment/Getty Images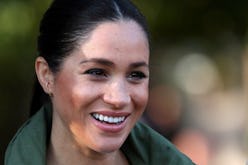 Everybody expected the palace's next announcement to be the one, but it seems the royals had just one little thing to clear up before the big day comes. Meghan Markle's birth plan has been revealed and there won't be any waving from the hospital steps this time around. In fact, there might have been a bigger reason the duke and duchess were quick to move into Frogmore Cottage all along.
Nobody outside the royal circle knows exactly when the baby is slated to arrive, but the statement Buckingham Palace released on Thurs. is pretty much a run-of-show for when Markle says, "it's time."
According to the statement, the duchess will be foregoing the tradition of debuting baby Sussex on the hospital steps like Princess Diana and Kate Middleton did. This is a ritual the people have come to look forward to since Princess Diana stood on the steps of the Lindo Wing at St. Mary's with Prince William, then Prince Harry in-hand.
Kate Middleton didn't hesitate to follow suit — even wearing similar outfits to the late princess' — when she debuted Prince George, Princess Charlotte, and Prince Louis. But, as you know, Meghan Markle isn't afraid to challenge traditions, especially if they're a bit out of her comfort zone.
If all goes to the duchess' plan, she won't be going to a hospital at all. Buckingham Palace says the soon-to-be parents are hoping for a home birth — in their new Frogmore Cottage digs, of course. No wonder the couple was in such a rush to move in.
"Their Royal Highnesses have taken a personal decision to keep plans around the arrival of their baby private," a palace spokesperson said. "The Duke and Duchess look forward to sharing the exciting news with everyone once they have had an opportunity to celebrate privately as a new family."
The Queen's team of obstetricians and gynecologists won't be in attendance, reportedly, but Markle's own chosen team will be there in case any complications arise. Prince Harry and the duchess' mother, Doria Ragland, are expected to be in the delivery room.
When the baby is born, the palace will post a note on an easel in the forecourt. As for the photo-op, that will come whenever Markle and Prince Harry feel ready to show off their royal newborn. In any case, that moment could be coming very soon.
Editor's note: This story has been updated from its original version.