Meghan Markle Wore The Sleekest Outfit Ahead Of Her NYC Baby Shower
Shutterstock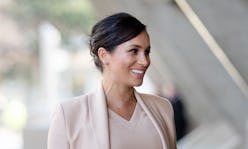 Make way for a new royal baby: The duchess is currently on her final visit to the states ahead of her April due date. Meghan Markle's New York baby shower is almost underway, but first Her Royal Highness braved the streets of Manhattan to meet up with a friend from her acting days. The mom-to-be dressed in a classic all-black outfit in true Markle style.
The Duchess of Sussex has been keeping a low profile since she reportedly arrived in New York on Fri. Her visit stateside is expected to be a bonafide girls' trip, with Tues.'s baby shower being the grand finale.
She has already reunited with her Toronto-based stylist and friend, Jessica Mulroney (who will be hosting the shower), over macarons at Ladurée, a French bakery in SoHo. Now, she's en route to a luncheon with her former Suits costar Abigail Spencer ahead of the big event, according to Harper's Bazaar.
Markle was seen leaving The Mark Hotel on Tues. wearing the chicest black-on-black ensemble. She opted for an A-line button-up coat with short sleeves and a Nehru collar — the perfect outerwear for her growing baby bump.
A pair of black skinny jeans by Hatch Maternity peaked out from underneath the jacket, paired with nude-colored pumps and a matching leather tote by Carolina Herrera.
Aside from that one time she went left field with a red-and-purple outfit, Markle has been loving monochrome all throughout her pregnancy. She's made appearances in all white, burgundy, beige, and blue. Now, the royal has returned to her go-to color: black.
While not yet confirmed, it's speculated that Markle's private baby shower might take place at the hotel where she's staying, The Mark Hotel in Manhattan's Upper East Side. It's also unclear whether this latest look is what she'll wear to the event.
What we do know, though, is that only about 15 people were invited to the shower, and that includes Markle's celebrity mates Serena Williams, Priyanka Chopra, and fashion designer Misha Nonoo (who reportedly set Markle and Prince Harry up in the first place). According to People, the duchess' mother, Doria Ragland, could be flying in for the big day, too.
And this is only the first of a series of events to spoil the future royal baby. Markle and Prince Harry will also have a pre-baby party after their trip to Morocco later in the month, Harper's Bazaar says.
Once the baby is born, they'll return to Markle's home country for an official royal tour of North America in the fall, which was postponed from its original early-2019 dates due to the pregnancy. But who could complain? In about two months' time, you'll have a little royal to gush over.