Kate Middleton And Prince William Revealed The Name Of Their Third Child
Getty Images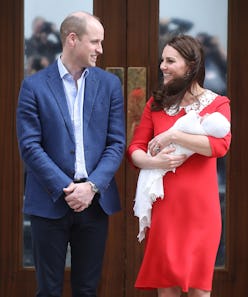 Updated on April 27, 2018: Four days after the much-celebrated birth of Kate Middleton and Prince William's third child, the name of the little prince has finally been announced: Louis Arthur. While many predictions were made on what the baby would be named (Philip, Arthur, James and Albert, to name a few), the final decision actually has royal roots. William's full name, for instance, is William Arthur Philip Louis and little Louis' great-grandfather Prince Philip's late uncle was Louis Mountbatten, who actually introduced to Philip to Queen Elizabeth herself.
As for the little man of the hour? According to his father, he's enjoying his first week of life just fine. "He's doing very well," Prince William said to reporters. "Sleeping's going reasonably well so far, so he's behaving himself, which is good."
Original post on April 23, 2018: After much anticipation the British royal family has finally welcomed their newest addition! Kate Middleton gave birth to a baby boy on Monday, April 23, just weeks before Harry and Meghan Markle's nuptials."Her Royal Highness The Duchess of Cambridge was safely delivered of a son at 1101hrs," a statement from Kensington Palace read. "The baby weighs 8lbs 7oz. The Duke of Cambridge was present for the birth." (The name of the new bundle of joy has yet to be announced, but many believe Kate and William will choose the name Philip.)
Even more heartwarming, however, was Kate's outfit choice. The Duchess chose to echo Princess Diana's outfit when she first presented Prince Harry, a tradition she and Prince William started when she wore a polka-dot dress reminiscent of the style Diana wore when presenting Prince William for the first time. We love how this subtle-yet-touching tribute keeps her memory alive at such an important time for their family.
Getty Images