Meghan Markle Touched Down In Fiji Wearing A Subtle Tribute To Princess Diana
Shutterstock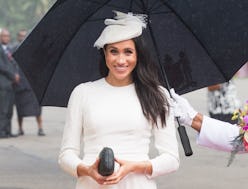 While the Duchess of Sussex will never get to meet her late mother-in-law, it looks like she's already taking notes from her in the fashion department. Although her style is inherently different than Princess Diana's, the Duchess tends to channel her iconic aesthetic in a subtle way. Most recently, Meghan Markle's all-white outfit in Fiji was an understated way to show her admiration for Princess Diana's style.
Markle and her husband Prince Harry have spent the past few days beginning their official 16-day tour, visiting cities in Australia, New Zealand, Tonga, and Fiji. On Oct. 23, the couple's first day in Suva, Fiji, The Duke and Duchess Of Sussex greeted the public from their balcony at The Grand Pacific Hotel. The expecting mother stunned in a white dress, designed by Australian label Zimmermann. The midi dress features long sleeves, a high neck, and an empire waist for a clean and sleek look. She wore her hair in long, loose curls, and topped it off with a matching white fascinator.
Although Zimmermann is a contemporary brand, Markle's classic dress choice loosely resembles that of her iconic mother-in-law, Princess Diana, on her own first visit to Fiji in 1985.
Unlike the The Duke and Duchess of Sussex, Fiji wasn't an official stop on Princess Diana's royal tour with her then husband, Prince Charles, over 30 years ago. Instead, the couple had stopped in Fiji to refuel for just about an hour in between their tours of Australia and the United States.
Just like Markle is now, Princess Diana was known for her bold-yet-timeless fashion sense. In fact, Diana's royal daughter-in-law may have drawn some inspiration for her own attire in Fiji. While the occasions are vastly different, Markle's dressy outfit lies in the very same color scheme. Princess Diana opted for a white midi dress, which she paired with a gray-and-white striped overcoat and a matching hat. She added a neutral bag, nude pumps, a diamond necklace, and earrings.
The white look wasn't Markle's only nod to Princess Diana on the trip. As day changed to night on Oct. 23, so did the Duchess' outfit choice. Following their welcome ceremony, Markle and Prince Harry attended a state dinner hosted by the president of the South Pacific nation Jioji Konrote.
Markle opted for a cape dress by London-based brand Safiya in a bright-blue shade to honor the country. The form-fitting, flowing gown paired perfectly with the Duchess's black, pointed pumps and a pair of chandelier-style diamond earrings. Markle didn't change up her hair for the evening, letting her soft waves shine against the dress.
After seeing this gorgeous gown, it's hard not to conjure up an image of Princess Diana donning a comparable style. On a visit to Tokyo in 1986, the Princess wore a satin, blue cape dress. Instead of statement earrings, she accessorized with a sapphire-and-diamond head band, in true 1980s fashion.
Although Markle is only one week into her tour, it's safe to say that her closet has already served as major inspiration.