Here's How Meghan Markle Styled Princess Diana's Butterfly Earrings
Mark Metcalfe/Getty Images Entertainment/Getty Images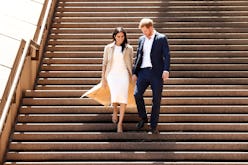 Just a day after the Duchess of Sussex announced that she and Prince Harry are expecting a royal baby, she wore a special accessory that once belonged to Princess Diana. Meghan Markle's butterfly earrings seemed to be a touching tribute to the late grandmother of the couple's future child. The last time the jewels were worn was when Markle's prince was only a year and a half old.
The Duchess of Sussex and Prince Harry have kicked off their 16-day tour of Australia, Fiji, Tonga, and New Zealand with a pregnancy announcement. On Tues., during their first day in Australia and less than 24 hours after revealing the big news, Markle wore her late mother-in-law's jewels to a public outing at the iconic Sydney Opera House. The butterfly earrings she sported were worn by the Princess of Wales during a trip to Canada more than 30 years ago, when Prince Harry was just a baby.
Princess Diana wore the sparkling butterflies with a royal-blue coat and a polka dot fascinator in 1986. Now, Markle is wearing them decades later with a white sheath dress by Australian designer Karen Gee. The entire outfit seemed to have been curated around the news of their baby-to-be, with the Blessed Dress (yes, that's its official name) as well as those accessories that Markle borrowed from the royal vault, including not just the butterfly earrings, but a gold bangle with blue stones that once belonged to Princess Di, too.
Markle wore her hair down but tucked behind the ear to show off her vintage gems and opted for neutral tones for the rest of the outfit: a beige coat and nude pumps.
Later in the day, Markle changed into an olive green khaki shirt dress by Brandon Maxwell for a reception hosted by the Governor-General at Admiralty House. She pulled her hair up in her signature low bun, showing that she hadn't taken off the special jewels.
The Duchess' style hasn't seemed to change much even with the baby bump, as she's still sporting one of her favorite colors, olive green, and her favorite midi-dress-and-coat combo. The antique accessories have become tradition, too, making it clear that the couple wants to share their growing family with Princess Diana in their own way.
Markle's engagement ring, for instance, was crafted with two diamonds from Princess Diana's collection. During their first joint interview with BBC after the engagement in Nov., the Duchess was asked about her ring and said, "it's so important to me to know that she's a part of this with us."
In that very interview, Harry said his mother would probably "be over the moon, jumping up and down, so excited" about the engagement. They can certainly bet that the late Princess would feel the same way about a new grandchild come spring 2019. It's no wonder why Markle chose these sweet earrings to commemorate Diana on this special day.
The couple will be sticking around in Australia until Oct. 22, after which they'll continue their royal tour in Fiji.