Baby Archie Will Officially Be Attending Meghan Markle & Prince Harry's Royal Tour Of Africa
WPA Pool/Getty Images Entertainment/Getty Images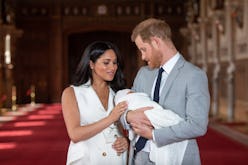 It looks like baby Archie will be embarking on his first royal tour at the age of about six months old. The Duke and Duchess of Sussex announced their upcoming trip earlier this month, sparking speculation that their new addition might be joining. Now, it's official: Meghan Markle and Prince Harry's royal tour of Africa will be a family affair.
While she's surely enjoying some quality time with the new baby at Frogmore Cottage, the rest of the world awaits the duchess' return from maternity leave. Thankfully, that moment is now close enough to start counting down days.
On June 12, the British television network ITV announced that Markle and Prince Harry were planning a trip to Africa, but it's been weeks now that people have been waiting for details. Finally, on Thurs., a post on the @SussexRoyal Instagram account dished the scoop.
"The Foreign and Commonwealth Office have requested a visit to South Africa as well as The Duke carrying out visits to Malawi and Angola," the post said. "His Royal Highness will also do a short working visit to Botswana en route to the other countries."
It also confirmed that the baby will join. Little Archie Harrison will officially commence his royal duties before turning a year old.
The newest addition to the Windsor clan, born barely two months ago, will make his inaugural venture out of the country this fall to visit a place his parents hold close to their royal hearts. The Southern African country Botswana is where Princess Diana did charity work for the HALO Trust back in the '90s. Prince Harry has, of course, continued his mother's mission and has in the past called the country his "second home."
That's why he took then-Suits actor Meghan Markle on a camping trip there before he proposed. Now, the couple will revisit the African landscape where they fell in love years ago as a family (of three).
"The Duke and Duchess are really looking forward to meeting so many of you on the ground and continuing to raise awareness of the high impact work local communities are doing across the Commonwealth and beyond," the caption continued.
The upcoming excursion will give royal fans an opportunity to see more baby Archie, who's only made two public appearances since his May birth: one during the big debut at Windsor Castle and another in a precious Father's Day post on @SussexRoyal's Instagram. So, get your social media alerts ready for an influx of cuteness as Archie gets ready for his first ever trip to Africa.