Marc Jacobs' Spring/Summer 2020 Show Capped Off NYFW With A Shot Of Nostalgia
PIXELFORMULA/SIPA/Shutterstock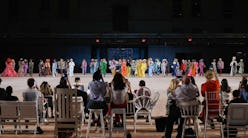 It goes without saying, but you really can't put Marc Jacobs in a box. Each genius collection of his is equipped with an exquisitely distinct mood and well-defined aesthetic that gracefully punctuates the season from one to the next. Whether it be grunge, Victorian, mod, or a theme in between, it's always a moment. And for Marc Jacobs' Spring/Summer 2020 runway show, which happened Sept. 11 inside the Park Avenue Armory a sea of 60 models ascended onto the floor (in this case, runway) dressed in flamboyant shades of the rainbow. The vibe was undeniably retro with plenty of references to the '60s and '70s, including floppy hats, babydoll dresses, and vibrantly hued tights.
There were notable references to Yves Saint Laurent à la '70s with pinstripe suits and big bows that would have looked oh-so-fitting on Betty Catroux or LouLou de la Falaise. Other standout looks included a model dressed in a tall black top hat and blazer pairing that felt pleasantly reminiscent of Judy Garland's performance of "Swanee" in A Star Is Born. Though the looks glided between a few decades the common thread was a masterful mix of color, nostalgia, and silhouette. As always, his show concluded New York Fashion Week and did so on the highest of notes.
On the accessory front, there was no shortage of play and imagination. The large hats stole much of the attention (many seemed like a nod to Jodi Foster in Taxi Driver) as did the large ceramic charm necklaces and bold-buckled belts. Footwear struck the perfect balance between wearability and whimsical, with carpeted pumps and white slouchy boots in the mix. The bags blended in well with petite clutches and earth-toned shoulder bags slung over models' shoulders.
The beauty was conquered by Pat McGrath, who created an individual look for each and every one of the 60 models. It took around ten days to plan out all of the looks, many of which featured rhinestones patterned around the eyes and cheekbones (holiday party inspiration, perhaps?).
Bright color and funky accessories aside, some other takeaways from the evening included imaginative takes on silhouette and layering. Knitwear was teamed with boxy shorts that were then layered over flare jeans. Tailored suiting separates were paired with silky blouses and turtlenecks that despite being intended for the Spring/Summer 2020 season, feel incredibly desirable to wear right now. The floor-length bohemian dresses were also a standout moment and looked especially divine topped off with a floppy-brim hat.
The last several days have been a whirlwind in the city, especially due to the fact that the CFDA shortened New York Fashion Week from seven days down to five. The fashion crowd is now headed to London Fashion Week for the next leg in the four-city tour of fashion month but, as always, Jacobs sealed off NYFW reminding us how instrumental his design is to his hometown, the city of Manhattan.