Why Pat McGrath Created 60 — Yes, 60 — Makeup Looks At Marc Jacobs Spring/Summer 2020
Courtesy of Marc Jacobs Beauty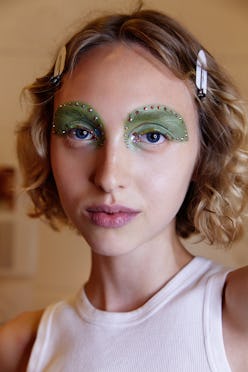 Any New York Fashion Week marathoner knows that the black-and-white checkered flag always waves over Marc Jacobs. And any beauty lover knows that the glam is always unexpected — you might get a dye job (35 of them!) or perhaps no makeup-makeup. What I did not know, however, is that Marc Jacobs' Spring/Summer 2020 beauty would blast all expectations away. Lead makeup artist Pat McGrath created 60 (yes, 6-0) dreamy makeup looks that would put Euphoria to shame.
"No one is to look the same," Pat McGrath tells me backstage, right before rehearsal. "Everyone has to be very individual. It's very much a modern take of today — they're extreme characters."
And in the case of this cast of characters, they certainly have the range. Some of the makeup was very natural, some very boyish, some involved jewels, paint, paper — everything you can think of. "It's just a little celebration of makeup, clothing, styling, and people," McGrath says. "It's kind of like a nod to the real world. Everyone wants to play with makeup today." Including McGrath herself. "We're very much digging into our old couture bags, which was really fun to do. Using [material] I've been hoarding for, I'd say, 15 years. And it's great to see them again."
The looks, which took eight to 10 days to plan, are ones that McGrath and Guido Palau, lead hairstylist for Redken, sat down to ideate with Jacobs himself. "It's Marc's fantasy of how he'd like to see people walking down the street," Palau says. "Very Marc Jacobs-y people." In a way, it's what McGrath would call a modern take on street style — "in the most maximum way," she says. "So it's really been a lot of fun for myself and team to express ourselves in different ways. That's quite an exercise, as you can imagine. We're very busy and not very relaxed," she jokes. "But we're having fun."
As with any Marc Jacobs show, the team used a host of Marc Jacobs Beauty products, all the way down to skincare: heroes include the Youthquake Gel Crème Moisturizer, the Accomplice Concealer & Touch-Up Stick, See-Quins Glam Glitter Eyeshadow in Pop Rox and Star Dust, and the soon-to-be-released O!Mega Glaze All Over Foil Luminizer in Jet Girl, a deep rose gold — all teamed with unconventional elements, like cellophane and star-shaped sequins. Some standout looks include a classic smokey eye ("A modern take on Jane Fonda in Klute," McGrath notes), antique pistachio paints (care of the Highliner Gel Eye Crayon Eyeliner in Peridot), and rhinestones. All the rhinestones.
"I've been a little bit of a rhinestone queen for the last... ," McGrath says, trailing off. "Since I was a young one, actually!" Her tips for placement include using a white or flesh-toned pencil to draw out your dots, and using lash glue with a pointed cotton bud to tack them on. Lipstick was very light this season — "sheer and transparent," McGrath says, avoiding a lot of weight on the mouth. But surprisingly, the boldest looks weren't the most involved ones. "Sometimes, the most simple can take the longest," she says.
Although McGrath can't choose a favorite character — "It's like choosing a favorite child!" — she notes how much fun it was to let go of convention and direction. Jacobs gave her the go-ahead in a conversation prior to the show: "It was all about being different. No fear, and having fun," she says.