How Marc Jacobs' Spring/Summer 2020 Show Used Hairstyles To Capture Nostalgia
Courtesy of Redken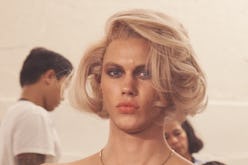 For the beat to go on, sometimes it must go backwards. Like a freshly unwrapped CD skipping to your favorite '80s song, so leapt the Marc Jacobs Spring/Summer 2020 hair looks. "There's a cast of characters here at the Marc Jacobs show. Some from another era, some nods to the '70s, '80s, nods to now… it's a collection of everything that Marc likes, really," notes a press email quote by hairstylist and Redken Global Creative Director, Guido Palau, who worked alongside makeup artist Pat McGrath, nail artist Mei Kawakiri (otherwise known as Nails by Mei), and many more. "We built the hairstyle, the color, and the makeup with Pat around each of these distinct personalities."
And personality wasn't in short supply for the clothing, either — Marc Jacobs' Spring/Summer 2020 collection is supersaturated in rich hues and prints toeing the line between futuristic and retro. "There are hats, there is color, there are a lot of looks… there's a lot of everything, in a way. There's a bit of irony and humor in some of the looks as well," Palau continued. "We've taken individualism to an extreme here by having every model walk with a distinct look."
This was no small task, and the stylist relied on two tools to achieve the throwback looks: "For any blow-drys, my key product is Redken's new Extreme Play Safe leave-in to heat protect," Palau explained. "Most of the looks involve hairspray as well, and I've utilized my new backstage must-have new Redken Triple Pure 32 Hairspray for high hold without the crunch. The neutral fragrance is perfect for backstage."
Redken Global Color Creative Director, Josh Wood, turned to a bevy of professional products to achieve the hair colors, as well. "I worked with Guido and Marc to create individual colors that portray different personas on both models' hair and on wigs," Wood said. "I used Redken Flash Lift Bonder Inside, Redken Shades EQ, and Redken Color Gels Lacquers to create looks across onyx bowls to split dyes, skater blondes and normcore naturals via light brown and mid-blonde shades."
But at the end of the day — why go to such lengths to delineate every single look? And what is there to gain from revisiting the past aesthetically? Obviously, there's the beauty typified by each era; the '80s bombshell, the '70s flower power, all on display at the Spring/Summer 2020 show. "Each look was carefully crafted to deliver a unique persona and caused every model to stand out in their own right to celebrate the beauty of each individual," Wood noted.
Perhaps, it's simply because nostalgia is fun; as is stepping out at night (or onto the catwalk) knowing you are the only one with your exact hairstyle, dress, and makeup. "As with closely guarded tradition, tonight is our reminder of the joy in dressing up," reads a quote by Marc Jacobs himself on the @MarcJacobs Instagram account. "Our unadulterated love of fashion and embracing grand gestures of unbridled expressions, reactions, ideas and possibilities."
Shop The Marc Jacobs Spring/Summer 2020 Hair Looks