This Is The Secret Behind Mandy Moore's Perfectly Feathered Brows
Matt Winkelmeyer/Getty Images Entertainment/Getty Images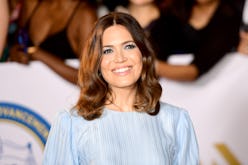 You can fill your Sephora basket to the brim with all the products Mandy Moore claims to use, but still you'd be missing a key part of her beauty routine. The actor recently revealed the secret behind her perpetually impeccable brows on Instagram and it's not any miracle product you'll find in a store. Apparently, Mandy Moore's perfect eyebrows are the result of microblading.
If you're not familiar with this beauty craze yet, then let's do a little run-through of the newly popular method (this could be the end of your eyebrow pencil — you've been warned).
Essentially, microblading is the semi-permanent tattooing of your brow hairs. But wait, don't be deterred by the word "tattoo." Semi-permanent means they're meant to fade, so you won't be stuck with 2019-style brows when you're an old lady (albeit a chic one).
You might already be savvy on micropigmentation, which is designed to give you a shading effect, but microblading, on the contrary, aims to create defined hair-like strokes using a totally non-frightening digital pen.
Unlike with normal tattoos, the tiny needles on this tool only penetrate the skin enough to leave a little faux hair. In Moore's case, you can't even tell they're not real.
The actor debuted her fresh new look, courtesy of brow guru Kristie Streicher, via social media last week. Women's Health captured the real-time procedure from Streicher's Instagram story, in which the master microblader is seen brushing Moore's actual eyebrows down to reveal the realest faux hairs you've ever seen underneath.
Streicher's signature method — which she, herself, has coined and trademarked — is microfeathering, which is "performed by depositing pigment superficially into the epidermis of the eyebrow," according to her website.
It's not designed to give you a whole new eyebrow like other three-dimensional techniques, but rather to refine what you already have.
"After numbing the area with a topical cream, small incisions are created, using a fine and very precise blade," Streicher's website says. "Pigment is then deposited into the incisions, resulting in an incredibly natural appearing 'eyebrow hair.'"
It's a $1,000 process that's split into two appointments and it's meant to last up to 12 months. Sarah Paulson, Mila Kunis, and Gwyneth Paltrow all rely on Streicher's special microblading method for their lust-worthy brows, too.
Microblading is not just for the celebrity crowd, though. People are running around with faux hairs everywhere you look — you just haven't noticed. If you, yourself, are in need of a major eyebrow upgrade this spring, then book yourself into a microblading specialist ASAP and ask her to make them like Mandy Moore's.