MaisonCléo's Opening Ceremony Collection Is Proof The Neon Green Trend Is Here To Stay
Courtesy of MaisonCléo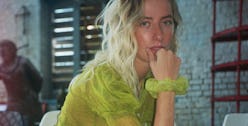 Receiving an invitation to work with Opening Ceremony is a one-way ticket into the fashion crowd's streetwear-lined closets. Opening Ceremony has a way of not simply capturing burgeoning aesthetics — it consistently offers thought-provoking fashion that happens to be exactly on trend, whether you realize it or not. When street fashion embraced industrial wear, Opening Ceremony gave us a Dickies 1922 collection. When you found yourself styling '80s graphic tees, Opening Ceremony collaborated with the Garbage Pail Kids. And as '90s nostalgia and neon continue to dominate, the MaisonCléo Opening Ceremony collection proves that electric green and vintage vibes aren't going anywhere.
You may not have heard the name MaisonCléo yet, but you've no doubt seen the French mother and daughter team's handiwork; MaisonCléo's reach is wide for a family brand with a little less than 26,000 followers on Instagram. Though the duo's small scale MaisonCléo e-shop opens only once a week on Wednesdays (12:30 p.m. in NYC, 6:30 p.m. in France) to take orders made in the family's Northern France home, their dreamy blouses have ended up on the likes of mega-influencers like Emily Ratajkowski — and probably have inadvertently sent you running to find the same tie-front white top.
The MaisonCléo for Opening Ceremony exclusive collection marries MaisonCléo's inimitable exclusivity with Opening Ceremony's eye for what its followers crave. "There are only 40 pieces in total, with three different styles," says Marie Dewet in an email with TZR, the fashion industry veteran that makes up one half of MaisonCléo.
The three pieces — a billowing plaid cotton shirt, and a sheer silk blouse and skirt set — were made by Dewet's mother, Cléo Dewet, from unique materials in a month and a half. "We found the fabric at French companies that sell leftover and surplus fabrics from established fashion houses," Dewet says. "As we don't manufacture our own fabrics, we never know which fabrics we will find. It depends on what we fell in love with, on what we loved at first sight!"
Though it'd be difficult to find someone who wouldn't want to wear the collection's cotton blouse with everything, the trendy neon green set is a show-stopping number. Featuring a hazy scalloped design and sold with the brand's signature matching scrunchie, it's the ultimate '90s girl group outfit dashed with relaxed French style. And how exactly would a French girl wear the sheer set? "Opening Ceremony's order was made for Pre-Spring 2019," Dewet explains. "So I will wear the skirt with my swimsuit during the summer, the blouse with a nice bra or even with nothing under."
Opening Ceremony has spent this year breathing life into other vintage trends (this colorful nail art may make you book a manicure appointment), and finding inspiration in the past is equally important to MaisonCléo. Of what inspires the collection's designs, Dewet says, "It's always vintage-inspired, with shapes and cuts pleasant to wear. The most important for me is that the fabrics are completely natural, from deadstocks."
The MaisonCléo for Opening Ceremony collection will be exclusively for sale on the Opening Ceremony website starting Nov. 27. And if you're still wondering how a mother and daughter's handmade clothing landed on the online shelves of one of the most powerful contemporary fashion brands, look no further than your phone. "Someone from the [Opening Ceremony] buying team spotted MaisonCléo on Instagram," Dewet says. "She sent me an email to ask me what I thought about a collab, that it would be cool to make this together."