Opening Ceremony Declares Nail Art Cool Again — And We're Here For It
Courtesy of Essie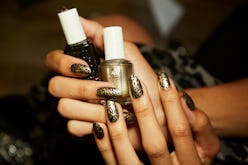 It's not often that nail polish manages to steal the spotlight at NYFW, but backstage at Opening Ceremony on Sept. 9, nail artists Julie Kandalec and Naomi Yasuda unveiled a whopping 17 unique nail designs for Humberto Leon and Carol Lim's dazzling cabaret show, a collaboration with Ru Paul's Drag Race winner Sasha Velour, held at Le Poisson Rouge. The 45-minute performance starred more than 40 LGBTQ models and drag queens, including Drag Race-alum Miss Fame, Miz Jade, and Scarlet Envy — each wearing a different beauty look — plus a surprise cameo from Christina Aguilera (NBD). And now it's official: Opening Ceremony just made nail art cool again.)
Read more: Negative Space Manicures For Spring Are So Trendy & Just As Easy To DIY
"Drag was the epitome of freedom and fantasy — everything a closeted teen could dream of," Leon wrote in the show notes. "What drew me to drag shows as a teenager is the same thing that propelled Carol and I to start Opening Ceremony: a celebration of individuality, freedom of expression, and the idea that realizing your dreams is only a fabulous outfit away."
When it came time to conceptualize a dozen-plus new nail designs for the show, Kandalec and Yasuda looked to Leon and Lim's wildly varied collection for inspiration. "We had a crazy brainstorming session looking at the clothes and the performers and the models together, and thought about what they would really wear," Kandalec explains to TZR backstage, flanked by rows and rows of embellished press-on nails. "We wanted it to be really and fun and out there."
And while fashion week nails are sometimes an afterthought, the designs at Opening Ceremony didn't go unnoticed: "Last night the models and drag queens told me and my team that our nails made them feel beautiful and confident," Yasuda wrote on Instagram Story after the show. "I'm motivated and inspired again."
Below, our favorite nail looks from the collection, plus tips on how to recreate them.
Outside The Box
Yasuda's primary color checkerboard motif works with any combination of shades — try it with pastels, neon, or shimmer.
Over The Rainbow
The ultimate nod to Opening Ceremony's celebration of LGBTQ life, Yasuda's rainbow gradient design.
Negative Space
"The moon shape mirrors a sweetheart neckline from a sweater in the show," explains Kandalec, who applied two coats of Essie nail polish in Licorice topped with Summit of Style.
Meteor Shower
"I wanted something glamorous and captivating that said 'celebration.' The 3-D glitter texture looks like a crystal studded ornament," Kandalec says, using Licorice and Summit of Style again.
Shimmer Fishnet
For Kandalec's hosiery-inspired motif, start with two coats of Essie nail polish in No Place Like Chrome and add detail using Licorice.
Modern Gingham
"I wanted to juxtapose the tiny print in the clothes with a magnified version on nails," Kandalec says. She coated nails with one layer of Essie nail polish in Marshmallow before striping two thin lines down the nail bed and two across, using Essie nail polish in Licorice.
Night Leopard
"I wanted something wild and free, so I designed this hand-painted animal print. You'll notice every nail is a little different," Kandalec explains.
Blue Moon
For Yasuda's cerulean shimmer nails, start with two coats of Essie nail polish in Aruba Blue and top with two thin stripes of Marshmallow in either direction.