MAC Cosmetics Partnered With This K-Beauty Star On The Dreamiest New Makeup Collection
MAC Cosmetics/Instagram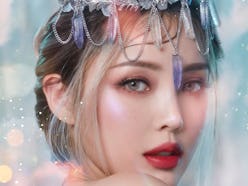 When you're attempting to recreate a certain style or beauty look, the right tools are certainly required. And as far as K-beauty is concerned, there are a slew of products you'll absolutely want to have on hand if you're going to get the covetable look down. That's why for the MAC Cosmetics' Pony Park collection, the iconic, crowd-favorite brand teamed up with legendary makeup artist, model, and influencer Park Hye Min (aka Pony) to ensure it was really done right. The result is enough to convince you that K-beauty trends can actually be completely effortless to pull off — seriously.
Amongst many other things, MAC Cosmetics is known for its well-timed collaborations. The brand has a knack for tapping into exactly what the world is most interested in at any given moment, and you don't have to be a pro-level beauty buff to notice that right now one of those things is K-beauty. Which is why teaming up with K-Beauty icon Pony Park may just be its smartest and most sure-to-sellout collaboration yet. If you've longed for an easy way to get in on every makeup trend to make its way over from Seoul, this collection is it.
The Pony Park collection, now up for grabs on MAC's website and at Nordstrom.com, is chock-full of products that'll help you get a fully Pony-approved face — and according to Allure, it'll help to you tap into not just one but several K-beauty trends. It's a celestial-inspired collection that draws on Pony's love for twinkling star accents (especially in her eye looks) with dreamy tarot card packaging and plenty of references to the sun, moon, and stars. But beyond looking pretty in your makeup bag, they'll also totally streamline your routine.
A major focus of the collection is on the lips, with two new and limited-edition products that'll help you easily create popular K-beauty looks. The Matte Lip Mousse, $20, is a super-whipped lip formulation that's designed to deliver that sought-after blotted, blurred lip look, thanks to soft, weightless pigments that blend easily into the skin to a gentle matte finish. The hydrating, buildable formula comes in nine different colors, including plenty of berry, red, and pink shades plus a delicate nude. For a high-gloss, bee-stung pout (all the rage amongst K-pop stars, Allure points out), reach for the Plenty Of Pout Plumping Gloss, $20, which comes in a sheer pink.
Get the elusive glass skin look with just a few swipes of Pony's Extra Dimension SkinFinish, $38.50, an ultra-intense iridescent highlighter that comes in two buildable shades. Choose Cold Comfort for an ethereal pearly pink glow, or select Sky's The Limit for metallic gold shine. The liquid-powder hybrid highlighter goes on like a cream to effortlessly blend into skin, so your face looks as if it's been lit from within with eye-catching glow.
The collection also includes a shimmery Eye Shadow x 8 Palette, $35, which sold out nearly immediately online — head to your local MAC boutique to seek it out — and a set of false eyelashes, $19, and two essential brushes you can use to emulate Pony's signature looks. To round out the drop, Pony and MAC also designed a limited-edition version of the brand's adored Fix+ Setting Spray, $30, infused with subtle pink and blue shimmer for a heavenly effect.
If the eye palette's sellout status is any indication, the rest of this collection is sure to go fast, so get your hands on it now by shopping below.