Why M-61 Skincare's New Vitablast C Oil Isn't Your Typical Brightening Product
Bluemercury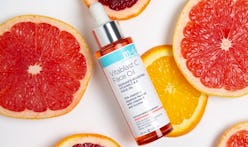 In the skincare industry, there's a whole lot of talk about getting skin that's glowy. And when it comes to giving your complexion an incredible boost of brightness, there's one effective ingredient that stands above the rest: vitamin C. The naturally-derived, radiance-delivering additive is so beloved by beauty buffs that just about every brand offers a product featuring the skin-loving supplement. But now, the brand-new M-61 Skincare Vitablast C Face Oil is here to take your skin to a whole new level of brightness.
If you've ever shopped at beauty superstore Bluemercury, you've likely tried a thing or two from the brand's own line, M-61 Skincare (like this editor-approved moisturizer). And if building up your complexion's brightness tops your list of skin goals, that means you may already rely on the vitamin C-packed products from M-61's Vitablast C range. Now, as winter slowly winds down, leaving you with duller skin than you had when it started, the news of a brand new addition to the radiance-restoring line is likely just what you need to lift your spirits.
M-61's just-dropped Vitablast C Face Oil, $78 and exclusive to Bluemercury's site and stores, is well-worth the excitement too, because it's an innovation that's the first of its kind. The nutrient-rich face oil features a whopping 10 percent of stabilized vitamin C, so you're getting a supercharged punch of complexion-correcting power with each application.
By the way, the fact that it's a stabilized form of the vitamin is a big deal — it means that the vitamin C is concentrated enough to avoid becoming oxidized (and losing its beauty benefits). So with this face oil, you can expect increased collagen production and more effective protection against hyperpigmentation, in addition to its brightening effects. That alone may be enough to make you ditch your former formula.
And M-61 didn't stop there. This lightweight, fast-absorbing face oil also features a ton of supplements to provide your complexion with a rush of radiance-enhancing hydration. Plant-derived squalane and licorice root work to calm down irritation and diminish discoloration, while sea buckthorn and passion flower extract replenish your face's moisture levels and softness. And skin-soothing vitamin E repairs and strengthens the essential barriers that keep further free radical damage at bay.
The multi-tasking face oil is meant for use morning or night — just apply five to seven drops to your face and neck with your fingertips after cleansing and ahead of your go-to moisturizer. Below, snag a bottle of the skin-brightening new face oil for yourself from Bluemercury, and get ready to finally break free from winter's skin-dulling grasp.