These Cult-Favorite Acne Healing Dots At Sephora Are Now Available In A New Brightening Version
Sephora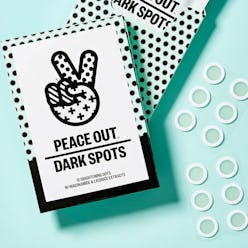 It's no secret that microneedling is expensive. Take the price and couple it with the name alone (aren't regular-sized needles nerve-racking enough?), and you may avoid ever undergoing the procedure. For anyone looking to skip the in-office prices and DIY dermarollers', well, microneedles — meet the Peace Out Microneedling Brightening Dots. The new product makes lightening unwanted dark spots as easy as slapping on an overnight acne-healing patch and sleeping while it works.
Fans of the brand Peace Out are used to effortless applications, though. Peace Out is the company behind Sephora cult classics like the Acne Healing Dots, Pore Treatment Strips, and the Puffy Under-Eye Patches. Like the easy-to-use skincare heroes before it, the brightening dots are affordable; a 12-pack of the dots will cost you only $28 at Sephora. And since Peace Out claims you only need to use the dots twice per week for two weeks to see results, it's way more cost-effective than routine trips to the dermatologist.
However, the results are different. Peace Out's brightening dots target specific areas of hyperpigmentation, unlike traditional microneedling tools — which can increase collagen production and minimize wrinkles through creating tiny injuries all over the face. The brightening dots still use microneedle-inspired technology: The dots are covered in needle-like grooves that create micro-channels in your skin (aka miniature holes that let the ingredients soak into your face at lightning speed).
Peace Out included a skincare study in its product description, as well, and the results are impressive. According to the description, 100 percent of users that tried the brightening dots said their dark spots appeared "lighter and less noticeable", with 85 percent noting that their skin had fewer dark spots than before trying out the product. Chalk it up to the formula's niacinamide, a popular form of vitamin B3 known for treating hyperpigmentation.
That's not to say that the formula's licorice extract and tranexamic acid don't help out too, though; both aid in brightening and reducing dark spots from the inside out. Although the product is still new (and only lands in Sephora stores nationwide Feb. 26), reviews are already glowing — shoppers are shocked at how easy and effective it is.
The brightening dots are exclusive to Sephora and Peace Out's own website. You may not want to waste any time ordering your pack, since the best-selling brand's Acne Healing Dots sold out within two weeks. Keep scrolling to snag your own box of the brightening dots.