Why Lune+Aster's New Setting Mist Is The Multi-Tasker Your Makeup Bag Is Missing
Bluemercury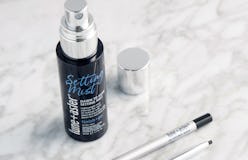 Remember the thrill of first discovering setting spray, and realizing you didn't have to go throughout the day wondering if your makeup look was staying in one place? Prepare to feel that magic all over again. Lune+Aster's Dawn to Dusk Setting Mist dropped June 15 — exclusively at Bluemercury — and it's raising the bar for setting sprays everywhere. Although the formula will help your foundation from budging and keep your blush looking rosy, it does way more for the skin beneath your makeup. Just by misting the spray over your face, post-beauty routine, you'll create a protective, pollutant-resisting barrier around your skin. Basically, Lune+Aster's new mist keeps your makeup on and environmental aggressors out.
Best of all, one bottle of the Dawn to Dusk Setting Mist retails for only $30. If you don't live by one of Bluemercury's locations, you can still order it from the luxury beauty store and spa online, too.
And you're definitely going to want to consider adding it to your makeup bag, stat. The spray's skin-protecting power comes from the plant-derived stem cells included in the formula; the ingredient yields a rich boost of antioxidants. Which, as you probably know, can be absolutely vital to your skin's health — and keep free radicals from wreaking havoc.
Though the beauty brand didn't stop there. Lune+Aster formulated the Dawn to Dusk Setting Mist with green tea and lotus root, two moisturizing ingredients that'll add a touch of hydration to your skin. Still, the product description promises the mist will be lightweight and not at all tacky — so you shouldn't feel weighed down by all the added skin benefits.
The diverse functionality of the setting spray seems to speak to the core beliefs behind Lune+Aster's makeup: It exists to make your life a little bit easier. "I created Lune+Aster for the do-it-all woman seeking simple, high-performance vegan makeup solutions. With vitamin-infused, paraben-free formulas and foolproof application, it's minimal effort, maximum impact makeup to get you out the door fast!" reads a quote by CEO and co-founder Marla Malcolm Beck in the product description.
Minimal effort, maximum impact? Yes, please. Below, Lune+Aster's new Dawn to Dusk Setting Mist.