Gilt's Vintage Louis Vuitton Sale Is About To Make Your Weekend Shopping So Much More Fun
Pixelformula/Sipa/Shutterstock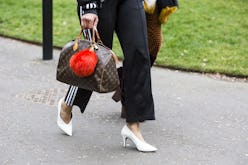 It goes without saying that Louis Vuitton's iconic logo pattern is one of the most universally recognized in the world. Thanks to the French label's global popularity, its designs have an enduring sense of style about them, making it easy to sport the pieces season after season. And if you've been eyeing one of the brand's forever-cool bags, Gilt's Louis Vuitton sale is your chance to buy a vintage version that's got all the style, at a slightly more favorable price.
Louis Vuitton's handbags and high-end luggage have an incredibly timeless nature. Silhouettes from five, fifteen, or even fifty years ago still manage to feel fresh — especially when kept in mint condition. It helps that the house has stayed true to itself over the years, never straying from its instantly-recognizable logo and patterns, despite also doing some sartorially-savvy collaborations throughout the years (who could forget the colorful Takashi Murukami collections of the early aughts).
And unlike vintage Chanel bags, which don't tend to depreciate due to their extremely limited quantities, pre-loved Vuitton bags do see slight prices drops when they reenter the market — meaning you can snag one for yourself without doing irreparable damage to your savings. So if you've been looking for a chance to get in on the resurgence of logo-mania that's been sweeping across the fashion scene, Gilt's current Louis Vuitton sale, which runs until 4 P.M. EST on Feb. 9, is a destination worthy of shopping.
The reduced-price designer retailer currently boasts over five pages of vintage Vuitton goods — from the label's most popular bag styles to chic scarves, jewelry, and other accessories. You can scoop up Louis Vuitton's classic Speedy top-handle purse in a variety of color ways, from this muted checkered Damier Azur Speedy for $800 to a limited-edition Stephen Sprouse Orange Graffiti Monogram Canvas Speedy for $1,825. Or, get the forever-chic Louis Vuitton Monogram Canvas Neverfull for $1,125 to tote all your daily essentials in style.
Go big by grabbing up one of Gilt's LV luggage offerings, like this Damier Ebene Canvas Pegase 50 rolling suitcase, $2,350, or an iconic Monogram Canvas Keepall duffle, $1,000 — both ideal for making weekend getaways feel even more glamorous. Or, start small by shopping petite evening bags and timeless wallets, like this Black Monogram Empreinte Leather Pont Neuf Wallet, $875.
If you've been struggling to rationalize the price tag on your favorite Louis Vuitton purse for years, perhaps a vintage version is the answer to your prayers. Shop some of the Gilt sale's best bags, big and small, from the French designer, below.