This Bold Practice Will Reignite Your Sex Drive — Even When You're Solo
New Line Cinema/Hbo/Village Roadshow/Kobal/Shutterstock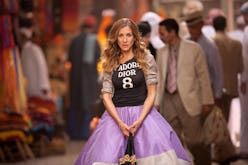 Keeping intimacy going in the context of a relationship is one thing, but having a healthy sense of sexuality when you're solo is just as important — and it can often be something that isn't talked about enough. If you're single and have found you've lost your sex drive, it could be attributed to a number of things, like anxiety, stress, or even a lack of self-confidence. And while many of those causes also affect couples who are struggling with keeping their sex life steamy, when you don't have a partner, you might feel extra helpless in finding a solution to getting your groove back.
You might have already explored options like libido-boosting hormones or even sex toys for trying to feel like your best and sexiest self when you're solo. But some experts say that if you're not focused on improving your sexual confidence, you could be ignoring one of the best ways to get back into the swing of things. And while that might be easier said than done, by changing your perceptions on a few things and adding in some regular practices, you might just find yourself having your most satisfying sex life ever — whether or not you've got a partner. Ahead find therapist/sexuality specialist Dr. Shannon Chavez's key tips for singles to reconnect with their sex drive and therefore practice some much-needed self-care.
Work On Body Positivity
Women of all shapes, sizes, and ages struggle with loving and accepting their body exactly as it is — and that can dramatically affect your sexuality. But whether or not you have a romantic partner to offer affirmations that boost your confidence, it's important that you also find it on your own.
Dr. Chavez's simple tip? Getting in the buff more often. "Spend time in the nude and look at your body," she says. "Let go of insecurities and find affirming and positive things to say about your body. Leave the criticisms behind and find a way to give your body love and admiration." If strutting around in your birthday suit seems like your worst nightmare, start off with something simple, like adding regular bubble baths into your self-care routine.
Practice Makes Perfect
Dr. Chavez recommends carving out time for a little self-stimulation, which she claims can help you figure out what feels good — without relying on a partner to do it for you. "An orgasm is in your control and takes time to get to know your body and what feels good," she explains. "Spend time exploring your body without judgement. Take your time experimenting with different forms of stimulation and giving your body what it needs to experience pleasure."
Date Yourself
"You don't need a relationship to have a date," says Dr. Chavez. "Go somewhere that you want to go. Make a reservation for a nice dinner or show. Don't wait for a date to have a fun night out on the town. Take yourself out and play!"
Expand Your Ideas
Though you feel it in your body, your sexual road block probably starts in your head. Perhaps you had a partner or an upbringing that limited or discouraged certain ideas about sex. Your single days are a great time to redefine sexuality on your own terms, according to Dr. Chavez. "Challenge some of the myths you may have heard about sexuality and create new beliefs that reinforce a positive attitude towards sexuality, she says. "Get rid of old programming that leads to sexual doubts, insecurities, and low sexual self-esteem. Instead, create beliefs that focus on pleasure and not performance."
And that includes how you define the word "sexy" as it applies to yourself. "Explore different behaviors that evoke sexual feelings such as flirting, body cues, and movement that can trigger sexual feelings," Dr. Chavez adds. "Have fun with your sexuality. It's a form of expression that is as unique as your personality. Find your inner sexy by exploring what feels good for you."