The Sex Toy Top Relationship Therapists Always Recommend
UfaBizPhoto/Shutterstock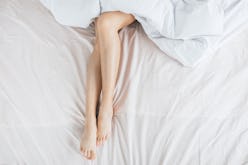 Right up there with communication and trust, sex is definitely a crucial component to a solid, long-standing relationship. And while every couple has their respective style and routine when it comes to physical intimacy, it's safe to say, after time has passed, most need a little spicing up at some point. That's why sex toys for couples can be a saving grace — just ask any therapist.
"I think [sex toys] can be really helpful in relationships and I'd probably recommend them sooner than later," says Dr. Shannon Chavez, licensed clinical psychologist and certified sex therapist. "Most couples are coming in with desire discrepancies, lack of sexual interest, and boredom. So what sex toys can do is add in some variety and novelty. It's so important to get couples out of a rut and into a place where they are exploring. It becomes a good place for intimacy because they have to communicate and talk about how to use the product together."
Yes, according to a recent study from adult brand Adam & Eve, consumers spend more than $15 billion on sex toys each year. It seems the industry is taking note of this constant need for sexual novelty, as the options these days are getting more and more creative. There's literally a toy for every type of couple and comfort level. "Toys have come a long way, even in the last decade," says Chavez. "We have a lot of options to choose from. There are toys designed specifically for couples, which are great and add even more of a connection because both couples can be interactive and use the product equally."
Haven't yet explored the world of sex toys with your significant other? Chavez recommends rookies take it slow and steady, easing themselves into the new sexual frontier. "For couples starting out and a little intimidated by toys I recommend getting a basic external massager," says Chavez. "It's not a vibrator so you can use it on male and female bodies. So it doesn't have to be anything other than a massager you can use to enhance sensation and it allows couples the opportunity to be creative."
Massagers can also be an ideal tool for same-sex partners, says Chavez. "Any standard body massager is a great option for lesbian couples," she says. "There's also a product called Feeldoe for couples who want to explore penetration at the same time — it's designed for that. A brand called Lelo also has some really great products for clitoral stimulation."
The sex therapist recommends using sex toys to explore the body's various erogenous zones — and not just the obvious ones. "I challenge couples to think past the genitals and breasts," Chavez explains. "Erogenous zones are very specific to the individual because there may be parts of the body that are more sensitive. In general, I find that people really like sensation on the inner thighs, lower back, belly, the neck and shoulders."
For the more adventurous couples ready to take on the more cutting edge side of sex toys, Chavez recommends throwing a little tech into the mix. "We even have stuff now that integrates virtual reality and bring sin the fantasy element," says Chavez. "Not just a vibrator but something we're using to increase stimulation, so maybe a device that can incorporate costumes, dress-up, and elements of exploration."
Now that you've officially completed your crash course in sex toys, it might be time to stock up. Ahead, eight products to try with your significant other. Have fun!