Lime Crime's Iconic Venus Palette Just Got A Summery, Travel-Friendly Update
Lime Crime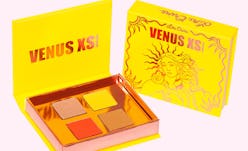 Move over, self-tanning — there's a new way to get a summer glow without ever stepping foot into the sun. And yes, this now includes wearing the right eyeshadow. Lime Crime's new Sunkissed collection launched this May, bringing with it six glow-enhancing makeup products guaranteed to help you sparkle all summer long. You don't want to wait long to snag yours, either; according to Lime Crime's official Instagram account all six new products are limited edition.
So, it should come as no surprise that value bundles have already started selling out on Lime Crime's website. Luckily, each solo product is still in stock — for now. Prices range from $44 (for the six-shade Sunkissed Face Palette) to just $18 (for Lime Crime's Sunkissed Freckle Pen; more on that later, though). A bundle for the entire collection is still available, too: you can pick up the Sunkissed makeup collection for $114.
For anyone new to Lime Crime's makeup, the Venus XS Sunkissed Eyeshadow Palette should be the first part of the collection you add to your shopping cart. It's the newest addition to Lime Crime's iconic Venus eyeshadow collection, a richly-pigmented, easy-to-wear family of vegan and cruelty-free shades that's acquired a cult following.
Better yet, the travel-friendly quad size retails for just $20. The new eyeshadow palette comes with four summery shades: an on-trend matte yellow, a shimmery orange, a warm bronze, and a radiant champagne shimmer named "Spritzer."
However, you should also snag Lime Crime's new Plushie lipstick shades or the freckle pen if you love the brand's more whimsical side. The $20 lip colors are metallic; you only need to dab on a touch of shimmer with the applicator wand to instantly coat your lips.
On the other hand, the freckle pen is shockingly subtle. Although it looks a bit like a felt-tip marker, the pen leaves behind faux freckles that add an air of authenticity to the collection's highlighters and bronzers. All you have to do is dot the tip of the pen on for tiny freckles, or smudge it in slightly more for larger, darker freckles. (It also may be one of the easiest ways to get in on the ever-present fake freckle trend.)
Feeling like it's about time to start sparkling? Below, Lime Crime's new limited-edition Sunkissed collection.