The Unexpected Bag Style That's About To Replace Your Micro Mini
MATCHESFASHION.COM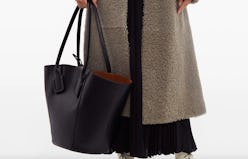 As adorable as they are, let's be honest: The micro-mini bags that caused an internet frenzy over the last few seasons aren't the *most* practical option. Of course, there's no need to toss your itty-bitty Jacquemus gem, but according to retailers' new arrivals, large tote bags may be replacing tiny purses this fall. And honestly, this could be great news if you often find yourself juggling your life around in multiple totes, because these oversized bags will fit everything you need (while looking as chic as ever, obviously).
The jumbo bag craze could be influenced by Italian label Bottega Veneta, which designed the pieces you've probably already spotted all over Instagram. In the designer's newest collection, you'll find beautifully constructed oversized bags that range from minimal to trendy while remaining timeless. For an everyday piece, Bottega's Basket Large Leather Tote Bag, $2,508, is the answer. The black leather is a versatile option that will coordinate with everything in your wardrobe, no matter the season. But if you want more of a bold option, you're in luck — the basket bag is available in last season's favorite bright orange hue, and it's clearly a color that's sticking around for fall.
On the hunt for a tote that's just as trendy as it is versatile? Look to Little Liffner's Open Tulip Large Tote for $700, a fashion-girl favorite that's now available in navy croc-embossed — yet another bag trend that's sticking around for fall. The tote was already spotted on Johanna Ankelhed, a creative consultant and stylist, during Copenhagen fashion week this month, so expect to see it on other trendsetters in no time.
And it's not just looks they're good for — large tote bags are ideal for the office, too. Finding a work bag that doesn't compromise style can sometimes be tricky, so it's the perfect opportunity to snag one of fall's new luxe options.
Though it's an investment, Marni's Large Two-Tone Textured-Leather Tote, $2,690, will be your new go-to work bag that will last year for many years to come. You'll easily be able to fit a laptop and agenda, as well as any other office essentials. Plus, the gold logo charm adds a subtle, stylish detail to the minimal leather bag.
If you're into the spacious totes taking over the handbag scene, keep scrolling for 10 options to add to your collection this fall.