The 7 Bag Trends Everyone Will Be Wearing This Fall
Jacopo Raule/Getty Images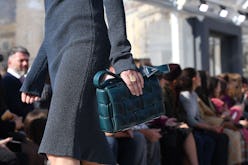 With Fashion Month wrapped, it's time to process all the looks debuted by top designers and suss out which styles will reign supreme for the year ahead. When it comes to the handbag trends on the Fall 2019 runways, it's a season of contrasting extremes. On one hand, there seems to be a renewed appreciation for maximalism: larger sizes, stronger shapes, heavier hardware, colorful furs. For several designers, this 'more is more' philosophy meant one bag is no longer enough, and wearing two — even three or four at a time — is better. Then you have the other side which is all about ultra-simplification, sometimes at the expense of function. This was evidenced by the wave of Thumbelina-sized purses (if you can even call them purses), and low-profile belt bags that blend more seamlessly with your ensemble.
If there's one commonality though, it's that form supersedes function. Fall's must-have bags may not always be the most practical, but they look good. They are the sort of accessories that will 100 percent make your outfit. So, as you start to plan your fall fashion wish list, don't sleep on the bag selection. These seven trends are the ones to note.
The More The Merrier
When your handbag obsession knows no bounds, carrying only one is just not sufficient. At Miu Miu, Fendi and Tod's, models sauntered down the runway with two in hand (usually a smaller style attached to a larger one), while Rebecca Minkoff and Ulla Johnson made wearing three or four bags at once a thing. Bag lady is officially the new look for fall.
Fuzzy Feelings
It's expected to see furry pieces in the fall collections, but this season it's not just for outerwear. Fuzzy shearling, shaggy wool, and soft faux fur bags are the must-have accessories to complete your look once the weather starts to cool. There are the colorful versions, like the ones seen at Chanel, Dries van Noten, and Prada, or you can opt for the natural look à la the curly lambswool shoulder bag at Staud or Phillip Lim's fleecy Sherpa style.
Micro Mini
Tiny bags are getting even tinier, if you can believe it. Diminutive styles were spotted at Carolina Herrera, Lanvin, and Givenchy, but few took the trend to such extremes as Jacquemus. The Internet could hardly contain itself when the French label showed its latest miniature style, which was approximately the size of a matchbook and hardly big enough to hold your AirPods. Micro bags are hardly practical, but then that's part of the appeal now, isn't it?
Power Structure
Petite top-handles received an architectural upgrade for the fall season. Cubic box bags were done in clear acrylic at Brandon Maxwell, in simple black leather at Roksanda, and floral tapestries at Oscar de la Renta. At Bottega Veneta, polygonal wristlets felt reminiscent of faceted gemstones. Rejina Pyo showcased modern arc shapes, while Jil Sander rounded things out with cool, cylindrical styles.
Chain Reaction
It's been a while since we've seen heavy hardware have a moment. In recent seasons, designers and shoppers alike have favored a more minimalist philosophy to accessories — but it would seem that's about to change. Bags with chains and metal accoutrements were featured heavily in the fall collections: chunky crossbody chains at Tom Ford, decorative doorknocker and oversized styles at JW Anderson, sleek silver chains at Proenza Schouler, charm-adorned chains at Versace. Set aside those simple leather-strap bags and get linked in.
Puff Piece
We've already established duvet dressing as a top trend for fall, after seeing all the quilted textiles and blanket-like pieces presented on the catwalks this past month. Some designers extended this motif into bags as well. At Dries Van Noten, it was all about oversized, slouchy styles that at first glance could easily be mistaken for coats draped over the models' arms. At Maison Margiela and Off-White, quilted puffer totes had a modern, sporty vibe and came in bold colorways. Bottega Veneta refined the idea with bags constructed of woven padded leather straps — a sleeker option that still has the puff appeal.
Belt It Out
It's not a new trend, but it's one that continues to prevail season after season. Belt bags are as mainstream as totes, satchels or any other standard shapes. This time around, designers sought to incorporate the style more seamlessly into the rest of the look. At Chanel, belt bags were coordinated in color and fabric with outfits, while Hermès and Roberto Cavalli kept their styles low-key in sleek black leather. Bulky fanny packs were largely replaced by flat, streamlined silhouettes, as seen at Zimmermann and Givenchy, or made to look like an actual belt, per Dior.