Lady Gaga Wore The Perfect Jeans In 'A Star Is Born' — Here's Where To Shop Her Exact Pair
Warner Bros.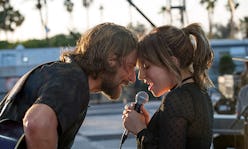 Since its release in Oct., A Star Is Born has been the film on just about everyone's mind. Not only does it tell an inspiring story about believing in and following your dreams, but it also offers up quite a bit of fashion inspiration in the process, too. As it turns out, it's actually super simple to re-create Ally's on-screen, vintage-inspired outfits, and it starts with just one piece. That's right, Lady Gaga's A Star Is Born jeans are the key to emulating her character's style with ease — and they're still in stock.
A Star Is Born is one film you can watch over and over again, finding something new each time — especially when it comes to Gaga's character's fashion choices. Ally's dressing approach can best be summed up as non-fussy and casual with a bit of Western charm, and she relied on a handful of easy-going wardrobe staples (namely trend-forward pants, graphic tees, and leather jackets) early on in the film.
Though the outfit Ally wore to sing "Shallow" on-stage for the first time was the immediate, well, star of the movie, the more casual-leaning ensemble she donned in one of her earlier scenes with Jackson Maine deserves mention, too. It consisted of a black crop top, a slightly-oversized leather jacket, red pumps, and last but certainly not least, a pair of high-waisted, boot-cut jeans that you can actually get your hands on this very minute.
Bonus: They won't burn a serious hole in your wallet, seeing as they ring in at just under $200.
Gaga's A Star Is Born jeans hail from L.A.-based brand, Parker Smith, a denim label that counts the likes of Gigi Hadid, Miranda Kerr, Cindy Crawford, Lucy Hale, and now, Gaga's Ally as avid fans. Though you can find just about every style in the brand's extensive collection, from classic cropped silhouettes to easy, everyday skinny jeans, there's something about the bootcut pair Ally frequented in the film that's particularly appealing right now.
Maybe it's because the classic flared hemlines from the early aughts are officially back, or maybe it's the versatile dark wash the jeans are rendered in. Whatever it is, this is one style you should add into you denim drawer ASAP, especially if you've been wanting to recreate Ally's iconic, all-American outfits.
Ahead, shop Lady Gaga's exact A Star Is Born jeans, as well as The Zoe Report's favorites from Parker Smith's extensive denim collection.
Shop The Look