Jeanne Damas Fans Will Love Rouje's New Line Of Vintage-Inspired Denim
Courtesy of Rouje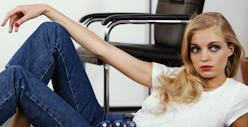 There are a few pieces that come to mind when you think of the ultimate "French girl" outfit, and a great pair of vintage jeans is definitely at the top of that list. But finding thrifted jeans that actually fit? It's harder than you'd think. Jeanne Damas, founder of the clothing label Rouje, clearly understands that struggle, and it's easy to see through Rouje's new collection of denim. The capsule, which launched on Sept. 27, was inspired by Damas' favorite jeans and the vintage silhouettes she loves so you can get the old-school styles you're looking for without the hassle of the search.
With four different fits ranging from $150-$165, Rouje's denim collection has the styles you'll love at affordable prices. The Bastille, which is $150, has a five-button closure and flared cut which adds just the right amount of detail to any look. Another standout style is the Pigalle (also $150), which is a basic, straight cut pair that epitomizes the simplicity of French style. Many of the jeans come in more than one color as well, so you can choose from a few different hues (like white and black) if you're not looking for a classic blue wash.
Rouje was founded by Parisian It-girl Damas, and since its inception many of its pieces (like the Gabin dress that the brand can't keep in stock) have developed a cult following. While many of its most sought-after items are soft and feminine, each one always evokes a timeless and carefree style. This new denim capsule made up of jeans you can throw on with anything is no exception.
Inspired by Damas' personal favorite pairs, the four jeans in the collection are definitely reminiscent of the simple, always chic style she's known for. Given that Damas has over 900,000 followers on Instagram, it's safe to say there are plenty of fans of her perfectly styled outfits — so it'll come as no surprise if these new jeans sell out just as quickly as the brand's other popular pieces.
Rouje's new denim capsule is available to shop exclusively on Rouje's website on Sept. 27. Keep scrolling to see more of the collection and stock up on these vintage-inspired pairs for fall before they're gone (because it won't take long).