These Are The 5 Pieces That Define Kourtney Kardashian's Effortless Style
Broadimage/Shutterstock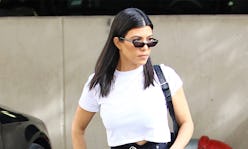 It's hard to argue against the fact that Kourtney Kardashian has seriously stepped up her off-duty style game in recent years. Regardless of where she's going or what she's doing (like running errands in L.A. or walking around the city with her three kids), she always manages to sport a killer look. The best part about Kourtney Kardashian's street style, though, is that it's incredibly easy to emulate.
If you aren't sure how or where to start, you'll first want to scoop up the five pieces that define her effortless style. Below, The Zoe Report breaks down the wardrobe essentials Kardashian swears by time and time again — all of which you'll be able to work into your closet with ease.
Leather Trench Coat
Kardashian has been playing favorites with leather trench coats as of late, rocking the top layer almost exclusively during the cold-weather season. But her go-to '90s staple isn't only ideal for winter — it's the ultimate transition piece you'll want to have hanging in your closet this spring and summer, too.
The reality star has styled her leather trenches (yes, she owns multiple) with just about everything in her wardrobe, perfectly proving its versatility. Whether teamed over an LBD, paired with velvet trousers, or thrown over a basic white tee, the outerwear staple is guaranteed to take any look to a new level of '90s cool in seconds.
Statement Sunglasses
Sunglasses have always been an ingredient in Kardashian's coolest street-style getups. Not only does the year-round accessory offer protection from the sun's harsh UV rays (and the flashing camera lights), but it takes any outfit from ordinary to extraordinary — with very minimal effort, at that.
Although Kardashian's sunglasses collection certainly seems expansive, she wears thin-rimmed frames and cat-eye shapes almost exclusively. If you're looking to freshen up your own assortment of eyewear, consider scooping up two of the reality star's favorite silhouettes, below.
Vintage-Inspired Jeans
Kardashian started wearing '80s-inspired jeans long before they were deemed 2019's biggest trend. If you haven't jumped on the retro-leaning bandwagon just yet, the reality star will certainly convince you to test drive a pair ASAP.
Not only are they easy to wear and incredibly fashion-forward, but they're also super versatile. Go ahead and style them however you please, whether that's with a silk blouse, a cropped sweater, or a logo tee.
Suit Set
Suits are no longer just for the office. In recent years, the two-piece set has evolved into a major street-style staple, and Kardashian is one notable name who's donned the combo repeatedly.
Many tend to stay away from suits because they can quickly feel stiff and stuffy, but as Kardashian demonstrates so well, a few simple styling tricks (read: cinching a belt at the waist, adding in cool sunglasses, and slipping into bold boots) can instantly soften the look.
Relaxed Tees
A white tee is an essential everyone should have on hand. Kardashian prefers hers to be slightly more loose-fitting, gravitating towards relaxed cuts rendered in soft, lightweight cotton.
Make like the reality star this season and tuck your new white tee into '80s-inspired mom jeans, topping off the look with another springtime must-have: a water-resistant trench coat.