This Is How Kourtney Kardashian Styles The Slime Green Trend
Jesse Grant/Getty Images Entertainment/Getty Images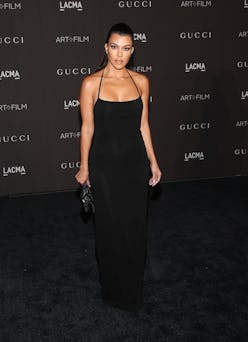 It's official: The neon trend that took runways by storm last Fashion Month has successfully made its way into 2019, as proven by Kourtney Kardashian's neon green shirt and a slew of celebs who can't get enough of slime. You've probably taken note of the eye-catching hue — after all, a color that bright is hard to miss. If you're here for a neon moment but aren't sure how to approach bringing the statement shade into your own wardrobe, use Kardashian's low-key look as a guide. The refined outfit is proof that it's totally possible to pull off, without looking like you just got slimed on a Nickelodeon show circa 2000.
Back in Sept., the world was met with a range of iconic neon ensembles, including a ruffly tulle gown by Christian Siriano, and that one-shoulder party dress worn by Bella Hadid on the Versace runway, to name a few. But rather than taking the plunge into a full neon-drenched look, you can introduce the hue into your wardrobe piece-by-piece. As the mother of three perfectly demonstrates, you can easily rock an all-black outfit while showcasing one decidedly slime-y accent item.
Kardashian went with a tucked-in cotton tee, but you can easily opt for slouchy knitwear or a formfitting turtleneck. The eldest Kardashian sister took a cue from Kendall Jenner by pairing the top with a Matrix-inspired trench coat, black denim, and small sunglasses. The ensemble was just futuristic enough to look 2019, while still appearing to be from planet earth.
Kourtney isn't the only Kardashian-Jenner leaning into the eye-catching shade. In fact, pretty much everyone in the family has been riding the neon wave as of late. Kylie, baby Stormi, and best friend Jordyn Woods opted for matching lime green swimwear while away on a family vacay. Even Blake Lively has dived right in, rocking a full-on power suit in the daring hue.
So, are you inspired to give the bright color a whirl, without risking looking like a traffic sign? If so, start by shopping The Zoe Report's round up slime staples, below.
Shop The Look