Kim Kardashian Just Revealed The Sex Of Her 4th Child (& Hinted At The Due Date)
Roy Rochlin/Getty Images Entertainment/Getty Images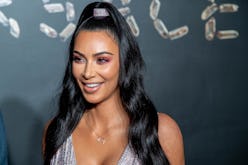 The Kardashian family is officially growing. Kim and Kanye West announced on Jan. 2 that they will soon be welcoming their fourth child via surrogate. Now, it's confirmed that Kim Kardashian's fourth child will be a boy.
After a source told People in Aug. that the couple wasn't in a hurry to have another after Chicago, they revealed right after the New Year that they are, indeed, expecting a fourth child.
Of course, Kardashian said she'd never carry another again — a source told Entertainment Tonight in 2016 that Saint would "definitely" be her last pregnancy — so she and Kanye West have opted for a surrogate again.
Although they were open about how much they adored the gestational carrier who birthed Chicago and would have loved to work with her again, they ultimately went with another surrogate for baby no. 4. "It didn't work out this time," a source told People shortly after the announcement was made.
On Mon. night's episode of Watch What Happens Live with Andy Cohen — the day before Chicago's first birthday — Kardashian revealed that their baby on the way will be a boy. The couple's second son is allegedly due in the spring.
She may have hinted toward the baby's sex back in Oct., when she joined Ashley Graham's Pretty Big Deal podcast and told the model that North said, "Mom ... we just need to have another baby brother so that Saint can just leave me alone." Now, the eldest heiress is being granted her wish.
Kardashian admitted to Cohen, who also recently revealed that he is expecting a baby this year, that she had spilled the beans about the baby's sex during a Christmas Eve party after having too much to drink.
"I can't remember who I told because I never get drunk," she said.
Whoever she might have mentioned it to couldn't keep it a secret, either, apparently, because rumors started emerging that the fourth Kardashian baby would be a boy. Only just now, though, has the 38-year-old confirmed them.
2018 was a busy year for the entire Kardashian clan, having welcomed Kim's Chicago, Kylie's Stormi, and Khloé's True. The newest addition will make Kris Jenner's 10th grandchild. When Extra asked her about it during the Art of Elysium Gala, she simply said, "well ... it's always a full house!" Nonetheless, you know the baby-crazy grandma is just thrilled.