Khloé Kardashian Revealed Her Baby Girl's Name, And It's Perfection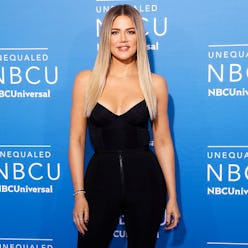 Updated post on April 16, 2018: After four days of anticipation, we finally know the name of Khloé's little bundle of joy, and it was worth the wait. In typical Kardashian/Jenner fashion the reality star went for something truly unique. "Our little girl, True Thompson, has completely stolen our hearts and we are overwhelmed with LOVE," Khloé wrote in the caption of a photo of a room filled with pink balloons and flowers. "Such a blessing to welcome this angel into the family! Mommy and Daddy loooooove you True!" So cute, right?
Original post on April 12, 2018: Despite the onslaught of gossip and rumors that have swirled around Khloé and boyfriend Tristan Thompson this week, it seems a silver lining has struck in the form of a beautiful baby girl. Yes, the reality star and entrepreneur became a mommy today to her first child! With Khloé's dreams and hopes for motherhood being long vocalized and expressed, we can imagine this is quite the happy day for the famous family. "My greatest dream realized! We are having a baby!" she wrote, when first announcing her pregnancy on Instagram. "I had been waiting and wondering but God had a plan all along. He knew what He was doing. I simply had to trust in Him and be patient. I still at times can't believe that our love created life!"
Khloé's new addition is the ninth for the Kardashian-Jenner clan. While a name and Insta have yet to surface, we're sure they will soon, so stay tuned as we keep you posted on any updates.