Kim Kardashian Just Debuted *Another* Major Hair Transformation For Fall
Jenny Anderson/Getty Images Entertainment/Getty Images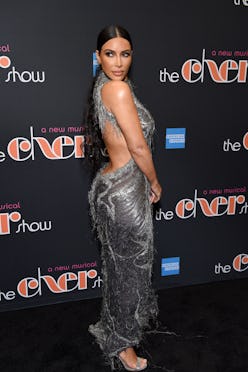 If you could change your hair color as frequently as you slip into a different pair of shoes, you probably would too. That's the fortunate reality when you've got access to some of the best hair artists the beauty world has to offer. And it's courtesy of one in particular that Kim Kardashian's cool brown hair has returned once more — and this time it could be sticking around for awhile. But then again, who knows?
On Oct. 24 Kim Kardashian West paid a visit to Ulta in New York City, to drop in on fans shopping her newly arrived beauty range (which officially debuted at all Ulta stores on Oct. 20). But beforehand, she sat in the styling chair with her longtime hairstylist Chris Appleton to switch up the shade of her strands yet again.
He took her hair from its iconic dark espresso brown to a cooler, lighter chocolate hue, slightly deeper yet similar to the shade she rocked at the start of October. And this time, the change wasn't courtesy of a wig — so there's a better chance she's keeping the cooler fall-ready color at least a bit longer than before. Well, maybe.
Perhaps the resounding success of the early October color change-up inspired her to finally take the plunge. After trying out the chocolatey tresses, Kardashian West took to Instagram and reposted a photo of her lighter hair and posed a question: "I always debate dying my hair this brown color. Thoughts?"
Her social media followers certainly supported the switch, considering the post is one of her most engaged-with of recent with 5.4 million likes and almost 65,000 comments.
Is it certain that the hair color is here to stay? Nothing is completely permanent in the world of Kardashian West, and any occasion could prompt her to pull out another new 'do — but Appleton at least confirmed that it's not a cleverly styled wig this time around.
On his 'gram of the gorgeous new color, one commenter attempted to call it out as another wig, to which Appleton responded simply with "no." Hair extension expert Violet Teriti is tagged in Appleton's Instagram, and likely supplied strategically-placed extensions for fullness and length. Then, Kardashian West was given plenty of volume for a sexy bombshell vibe.
Feeling similarly inspired to make a change? Call up your colorist and shop some cool brunette maintenance must-haves, below.
Shop The Look