Kim Kardashian & Kanye West Just Welcomed Their 4th Child
Dimitrios Kambouris/Getty Images Entertainment/Getty Images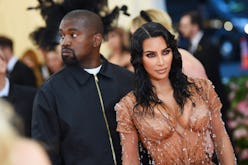 Kim Kardashian's most recent tweet says it all. Four months after news broke that the Kardashian-West clan was expecting a fourth child via surrogate, they're now officially a family of six. Kim Kardashian and Kanye West's baby is here.
Kourtney actually made the announcement that Kim's surrogate went into labor while filming The Ellen Degeneres Show. The show pre-released a clip from its upcoming Mother's Day episode on Instagram and it shows Kourtney (along with six mini Kardashian-Jenners) surprising mom Kris with the news on stage.
Hours after the clip was posted, Kardashian confirmed the baby's arrival on Twitter. "He's here and he's perfect," she said on Fri., followed by another tweet that said, "he's also Chicago's twin." The couple's 1-year-old daughter, Chicago, was also born by surrogate, of course, though not the same one who just birthed their new son.
About two weeks after People reported that the singer and beauty mogul was expecting a fourth child, Kardashian revealed the baby was a boy on Watch What Happens Live with Andy Cohen. This is her and West's second son, after 3-year-old Saint, and their second child by surrogate.
Their 5-year-old daughter, North, is the eldest of the four, of course.
No name has been announced yet for the newest heir to the Kardashian-West throne, but judging by the others' famously unconventional titles, it's probably going to be something nobody has thought of. That's just how Kardashian and West roll.
You can likely expect to see photos of the baby soon after that name is announced, too. While the mom of four was quite conservative with North's debut, holding out on pictures until she was 10 weeks old, she has become a bit more blasé since having a few more.
She shared the first photo of Chicago, for instance, three weeks after she was born. The television personality and businesswoman is rather public about her personal life these days, sharing family photos on social media regularly. It can't be too long before you get a glimpse of that sweet little face.
Until then, you better place your final bet on the name.